Sickness benefit claimants may be forced into work
Published time: 24 Aug, 2015 13:46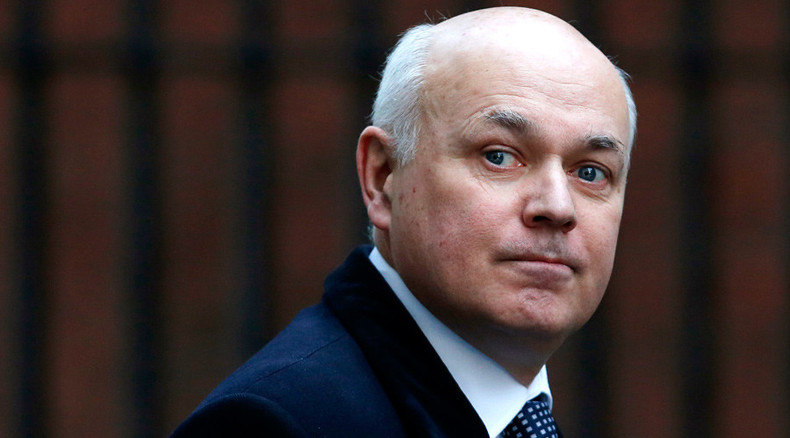 Hundreds of thousands of people who claim sickness benefits could be forced to work part-time under controversial new welfare reforms designed to target Britain's "benefits culture," Work and Pensions Secretary Iain Duncan Smith has announced.
Duncan Smith, who currently faces a 53,500-strong petition demanding he resign, outlined the reforms on Monday.
The petition was set up by campaigners after it emerged the Department for Work and Pensions (DWP) had created fictitious quotes designed to promote its benefits sanctions system. The fake quotes appeared on brochures alongside false case studies offering details on those who had supposedly benefited from the scheme.
Despite this scandal, Duncan Smith insisted on Monday the state's "sickness benefits culture" must be tackled. He claimed Britain's sickness benefits system is "too simplistic," and traps roughly 2.5 million people in joblessness.
Duncan Smith argued the system is fundamentally flawed because it incentivizes lethargy. He said current policy, which frames disabled and sick people in terms of their limitations rather than strengths, must be reformed.
The secretary suggested an overhaul of the Work Capability Assessment – used to screen claims for Employment Support Allowance (ESA) – is vital.
He also called upon employers to do more to monitor workers who take sick leave and for doctors to pay more attention to the potential health benefits of employment.
Duncan Smith's reforms, which were first announced in July's budget, have been sharply criticized by MPs and campaigners. Duncan Smith has presided over a number of controversial policies in recent years that have angered sick and disabled people.
In December 2012, he was accused of cruelty and callousness when he announced plans to shut down 15 factories for disabled workers. The closures led to the loss of almost 900 jobs, which provided subsidized and sheltered subsistence to disabled people.
A state advisor appointed to examine the government's Work Capability Assessments that year also concluded the tests were causing widespread suffering by forcing people to work who were not capable of doing so. Although the government claims the tests have been improved since then, criticism remains rife.
In July 2015, Duncan Smith also came under fire for scrapping the state's £320 million (US$505 million) Independent Living Fund (ILF). Founded in 1988, the fund has been vital in ensuring those with disabilities can afford at-home care. Although councils will receive a funding boost to compensate for the loss of this funding, disability rights campaigners say it will not meet the cost of the fund.
The DWP's benefits sanctions against sick and disabled people have been accused of driving vulnerable people onto the streets.
Homelessness charity Crisis says benefits sanctions against sick and disabled people risks leaving vulnerable people "utterly destitute" and at risk of homelessness.
Benefits cuts for "under-occupying" council properties – known as the Bedroom Tax – also affect disabled people. Statistics published in 2014 indicate that close to 66 percent of those hit by the government's under-occupancy penalty are disabled.
As part of the reforms outlined on Monday, Duncan Smith pledged to slash disability benefits by £30 a week. The policy shift, which would directly impact new claimants of ESA, has been condemned as insulting by campaigners.
They are particularly critical of regulations that require claimants to conduct "work-related activity," such as updating their CVs and attending sessions to build confidence.
Experts suggest roughly 25 percent of people who claim Jobseeker's Allowance suffer from common mental health issues that require thorough consideration.
Nevertheless, Duncan Smith says Britain's current benefits system writes off far too many claimants who could be assisted back into working roles.
"Under the existing system, there is a limited opportunity to work with the Jobcentre," he said on Monday. "Instead, they receive an assessment of their condition that focuses on what they can't do rather than on what they can do. That assessment will force them into a binary category saying they can be expected to work or they can't.
"We need a system focused on what a claimant can do and the support they'll need — and not just on what they can't do."
Welfare benefits, including tax credits and pensions, are predicted to cost the government £217 billion in 2015 – almost 30 percent of percent of public spending.
Official figures indicate roughly two million people across the UK make use of the ESA, which is roughly £100 per week. The government argues the number of people claiming this allowance has risen more than threefold since 2011.