Trafficking gangs profit from vulnerable migrants' desperation to enter Britain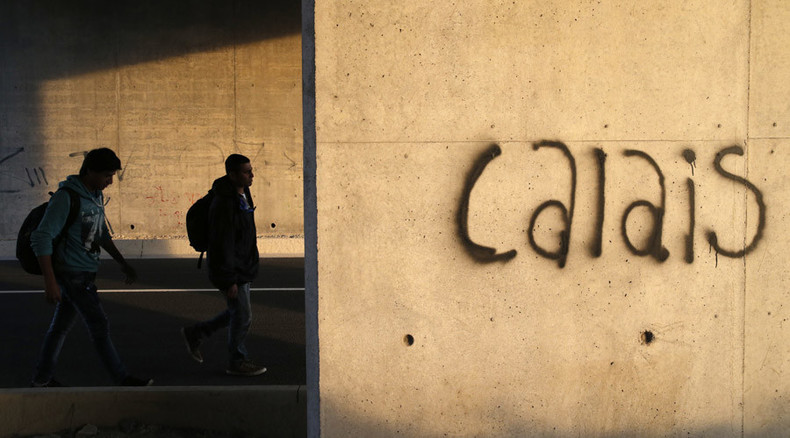 Criminal gangs from Eritrea, Afghanistan, Iraq and Vietnam earn up to €4m each year ferrying vulnerable migrants across the Mediterranean who have fled their homelands and are desperate to carve out a new life in Britain.
French police have intercepted up to 19 such criminal trafficking networks in 2015 alone, the Financial Times reported on Friday.
The gangsters charge migrants anything from €500 to €20,000 per trip depending on the service they provide. At the more expensive end of the spectrum, traffickers offer migrants fake documents and even hotel accommodation.
Growing numbers of campaigners and analysts are calling on the EU to allow people who are fleeing warzones to enter Europe. Their demand comes as Macedonian police used tear gas and stun grenades against large crowds of migrants on Thursday who were trying to enter the country from Greece. A number of migrants were injured in clashes, including children.
Police report Europe's migrant crisis is getting more serious, with the interception of criminal trafficking networks having increased threefold in the last year.
In August, police brought down an Albanian gang that had pocketed roughly €2m from 250 migrants over the course of six months.
As the Mediterranean migrant crisis intensifies, the number of refugees in The Jungle camp in Calais has soared from 800 to 5,000. Many of its inhabitants have come from crisis-ridden states in Africa and the Middle East.
Trafficking gangs, eager to cash in on their predicament, offer them hiding places in trucks and repeated attempts to enter Europe for a fixed price.
A particularly popular strategy reportedly involves hijacking a truckers' designated rest spot in Calais to pick up migrants. Drivers are often complicit in these acts.
One Afghan trafficking ring disbanded in April reportedly hijacked a petrol station's car park in Calais near The Jungle refugee camp. Between the hours of 6pm and 4am, Afghans pocketed roughly €600 from migrants who hid in the trailer.
While some migrants are instructed to hide behind objects in the back of these trucks, more complex trafficking operations involve the construction of fake walls.
Police reportedly lack the manpower to search every single vehicle destined for Britain. Delays from strict security measures were estimated to cost British hauliers £750,000 per day when the migrant crisis worsened in July.
Speaking to RT on Friday, political analyst Chris Bambery said that migrants who are fleeing war-ravaged states should be allowed to enter Europe.
"Politicians across the EU are running scared of giving any commitments to taking large numbers of refugees," he said.
"What we really need is something like what happened after WWII when Europe faced a far bigger refugee crisis – much bigger than this. But different nations sat down and discussed this, planned it, and solved the issue.
"What we need here is joined up thinking where the EU nations come together and decide that we're going to take in genuine refugees fleeing the conflict in Syria and work out quotas for each country, including Britain that is always refusing to take any."
Home Secretary Theresa May visited Calais on Thursday, where she signed a joint UK-French declaration geared towards bolstering border security around the French port.
Human rights campaigners have urged May to drop the British government's "tough rhetoric" on migrants and instead focus on how the UK can save lives.
Amnesty International said on Thursday that Europe is in the midst of the biggest global refugee crisis since the Second World War and called on the UK to work alongside EU member states to protect "desperate people."
LISTEN MORE: