BBC's Nick Robinson condemns abuse during Scottish independence referendum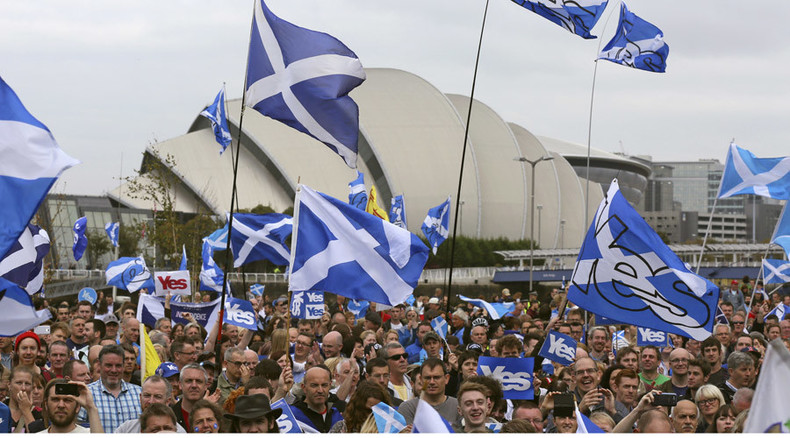 BBC Political Editor Nick Robinson condemned last year's street protests against his Scottish independence referendum coverage.
He said British society should not accept "intimidation and bullying" of journalists because of political differences.
Robinson, who will soon leave BBC News to join Radio 4's Today program, was accused of having a pro-union bias during his coverage of the Scottish independence referendum last September.
Thousands of pro-independence Scots rallied outside the BBC's Glasgow headquarters to demand Robinson's resignation last year after the journalist clashed with former first minister Alex Salmond during a press conference over the possible relocation of Royal Bank of Scotland (RBS).
Robinson said the spat was "a source of regret" during an appearance at the Edinburgh international book festival to promote his latest book, Election Diary.
"Alex Salmond was using me to change the subject. Alex Salmond was using me as a symbol. A symbol of the wicked, metropolitan, Westminster classes sent from England, sent from London, in order to tell the Scots what they ought to do," he said.
"As it happens I fell for it. I shouldn't have had the row with him which I did, and I chose a particular phrase we might explore badly in terms of my reporting and that is genuinely a sense of regret."
He went on to criticize the Scottish people's reaction to the squabble, drawing an unspecified comparison with the treatment of journalists in Russia.
"But as a serious thought I don't think my offence was sufficient to justify 4,000 people marching on the BBC's headquarters, so that young men and women who are new to journalism have, like they do in Putin's Russia, to fight their way through crowds of protesters, frightened as to how they do their jobs," he said.
"That, you may agree with me or disagree with me, is not how politics should operate either in the UK or in future independent Scotland if there is to be such a thing. We should not live with journalists who are intimidated, or bullied, or fearful in any way."
The exchange between Robinson and Salmond came after the BBC reported a UK Treasury source as saying RBS would move its headquarters to London if Scots voted for independence.
At the press conference, Robinson asked Salmond how Scottish taxpayers would make up the loss of tax revenue. Highlighting similar announcements from Scottish-based firms, Robinson said: "Why should a Scottish voter believe you, a politician, against men who are responsible for billions of pounds of profits?"
In his reply, Salmond insisted the economic significance of RBS, Lloyds Banking Group, Tesco Bank, TSB and Clydesdale Bank seeking to re-domicile to London would be minimal, as only banks' "brass plates" would be moving, while jobs in Scotland would remain secure.
When Salmond attempted to move onto the next questioner, Robinson repeatedly challenged him to answer questions about the banks' warnings.
The First Minister then went on the attack, calling for a leaks inquiry into who from the Treasury briefed the BBC about the RBS announcement.
Robinson was later accused of bias after he produced a news report wrongly claiming Salmond had ignored his question during a heated press conference.
The veteran BBC correspondent had edited out Salmond's lengthy answer, in which the First Minister claimed the BBC had skewed facts and colluded with the Treasury to undermine the "Yes" campaign.
University of the West of Scotland Professor John Roberton published a detailed academic paper in the run-up to the Scottish independence referendum demonstrating widespread bias in the BBC's coverage.
"The use of dubious evidence and sources, the tough interviewing of 'Yes' supporters and the passive interviewing of 'No' supporters and the demonizing of the First Minister, Alex Salmond," were among some of Robertson's observations.