MI5 spied on suspected communists & anti-colonial leaders, secret files reveal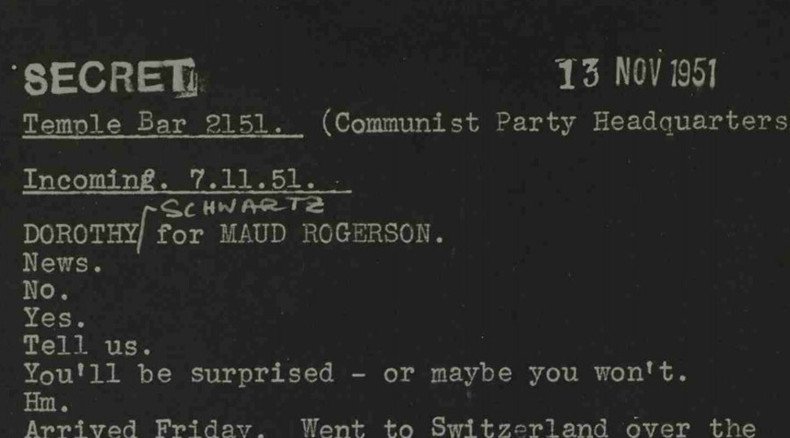 Bitish intelligence spied on ordinary citizens with left-wing and anti-colonial sympathies during the post-war years, according to newly declassified files in the National Archives.
Security agency MI5 subjected anyone with links to the Communist Party to close surveillance, with spies listening to their telephone conversations, opening their letters and even following their movements.

Newly released documents reveal the security agency closely monitored David Ennals, who later served as a cabinet minister under Prime Minister Harold Wilson, and author Doris Lessing because of their communist sympathies.

In addition to monitoring left-wing activists, MI5 also worked on behalf of the Colonial Office in targeting pro-independence African leaders such as Malawi's first president Hastings Banda.

Recently declassified files demonstrate the huge scope of British intelligence operations in the post-war era, which targeted anyone they considered communist or anti-colonial.

MI5 was evidently a well-resourced government department, as the documents include extracts of intercepted letters and telegrams, detailed transcriptions of telephone conversations, newspaper clippings pertaining to the subjects and notes on their movements.
Labour MP David Ennals first came to MI5's attention in 1946, shortly before he became secretary for the Council for Education in World Citizenship.

The spy agency's files cover concerns raised by French and American diplomats that Ennals was a security risk due to his communist sympathies and his brother Martin's work as a human rights activist.

The files also reveal a board member of the United National Association requested information on Ennals prior to his appointment as secretary of the organization in 1952.
Ennals was monitored by MI5 up until 1963, the year before he was elected Labour MP for Dover.

Martin Ennals, who later became secretary general of Amnesty International, was also closely followed by British intelligence for his suspected pro-Russian sympathies.

Nobel Prize winning author Doris Lessing was monitored for 20 years because of her left-wing, anti-colonial views.

Lessing came to MI5's attention while in her home country of Southern Rhodesia – now Zimbabwe – in the early 1940s.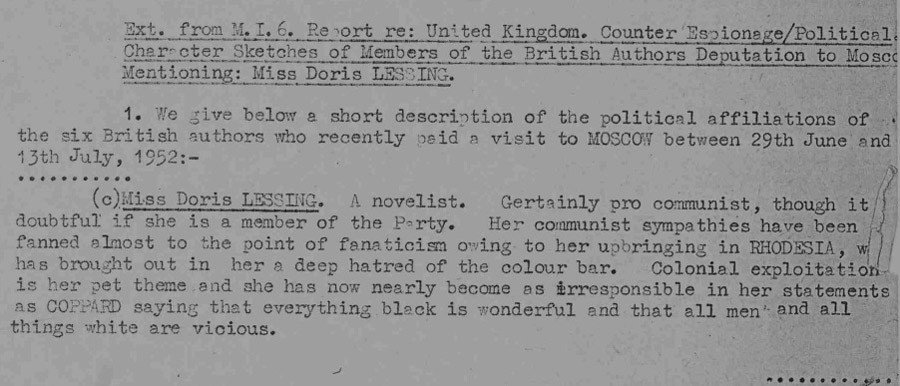 An MI6 document passed onto MI5 in 1952 describes the novelist as "certainly pro-communist, though it [is] doubtful if she is a member of the Party. Her communist sympathies have been fanned almost to the point of fanaticism owing to her upbringing in Rhodesia, [which] has brought out in her a deep hatred of the color bar.

"Colonial exploitation is her pet theme and she now become as irresponsible in her statements as Coppard saying everything black is wonderful and that all men and all things white are vicious."

The spy agency continued to pass on information about Lessing to the South African police even after she broke her ties with the Communist Party following the Soviet invasion of Hungary in 1956.

MI5 is usually thought of as the UK's domestic intelligence service, but during the last decades of Empire the agency often worked abroad in the colonies.

Malawi's Hastings Banda was targeted by MI5 under pressure from the Colonial Office. The agency intercepted his telephone conversations, despite having doubts about how "subversive" he actually was.
MI5 also monitored Kenyan pro-independence leader Oginga Odinga, whose left-wing sympathies made him an object of suspicion among his own countrymen as well as British intelligence.
According to University of Cambridge historian Professor Christopher Andrew, MI5 passed on information from the surveillance of colonial delegations to British negotiators during the "fraught negotiations" which led to the dissolution of the Central African Federation in 1963.

The agency clearly played a crucial role in the latter years of the British Empire. Professor Andrew said the newly declassified files are changing the way academics view the history of decolonization.

"Until recently, most histories of British decolonization did not even mention the role of MI5. MI5, however, was an imperial as well as a UK security service with intelligence responsibilities for British and Commonwealth territories around the world until the end of the 1960s," he said in a podcast for the National Archives.

"Officers who joined MI5 after the Second World War could expect to spend a quarter to a third of their careers on overseas postings," he added.
You can share this story on social media: