Assess impact of welfare cuts on disabled, activists tell UK govt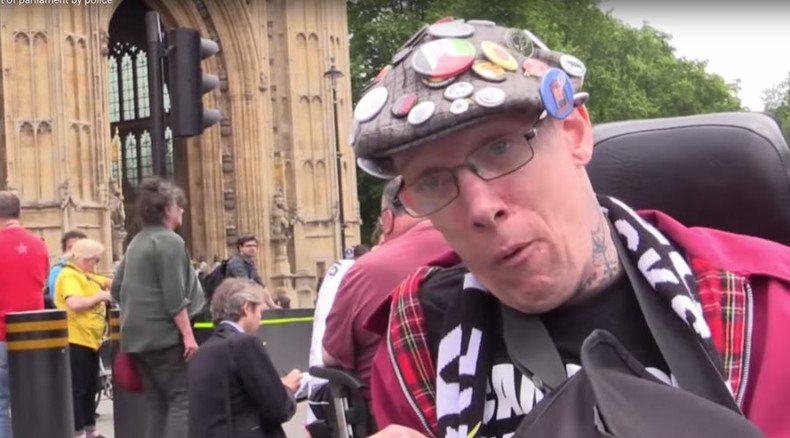 Campaigners are demanding the government publish an impact assessment of its welfare cuts on disabled people amid mounting concern sick and vulnerable Britons are being deprived of vital support.
Britain's War on Welfare (WoW) campaign says government cuts to welfare and social care over the past five years have severely affected the health of disabled Brits, and forced many into poverty. The group is calling for these welfare reforms to be urgently examined.
WoW grew from a string of online interactions some months ago and has received backing from MPs, celebrities and a broad array of social justice campaigners.
It was first founded by a small group of disabled people in the UK, but quickly evolved into a dynamic campaign. It previously demanded the government assess the impact of slashed welfare on disabled Britons in parliamentary debate. The debate occurred after campaigners attracted more than 100,000 signatures in an online petition.
Although MPs discussed the controversial issue in parliament several months ago, little action has been taken to address the campaigners' concerns.
A report published by the Centre for Welfare Reform, which MPs referenced during the parliamentary debate, says welfare cuts hit disabled people four times harder than the average citizen.
Warning of little progress with respect to the crisis, WoW has launched another petition. The group is demanding the government publish a far-reaching impact assessment on the effects of cuts leveled against disabled people since 2010.
Comedian and actress Francesca Martinez, who suffers from cerebral palsy, is a leading advocate for WoW.
Martinez says the cuts have had a devastating impact on vulnerable people and have left many fearing for the future.
"We need to show the government that their continued attacks on disabled people and carers cannot go unchallenged," she said.
"Anyone can become disabled or a carer at any time, so it is vital that we all get involved in ensuring that the human rights of every person – no matter what their ability – are protected."
The Scottish Nationalist Party (SNP) and Plaid Cymru have backed WoW's latest petition, as have Labour leadership frontrunner Jeremy Corbyn and Green Party leader Natalie Bennett.
"I backed the last WoW petition and I back this one because we can't stand by and let this government inflict this scale of hardship and suffering on people with disabilities. It's inhumane," Corbyn said.
Earlier this year, the Information Commissioner called on the Department for Work and Pensions (DWP) to publish figures on the deaths of welfare claimants who died within six weeks of having their benefits cut. The figures span November 2011 to May 2014.
After 30 disability rights activists stormed parliament in June, Prime Minister David Cameron pledged to release the figures.
However, the DWP is yet to publish the figures.
Bennet said the government's continued attacks on the disabled must stop.
"This government must not be allowed to get away without accounting for the impact of the continuing attacks on the benefits and services that disabled people are entitled to in a humane, decent society," she said.
"The WoW petition had a big impact last time around, and this 2015 version is entering a new political climate, in which campaigners are getting together to fight against the failed policy of austerity that is making the poor, the disadvantaged and the young pay for the greed and fraud of the bankers, and in which the political winds are clearly, finally, shifting after decades of failed Thatcherite policies from successive governments."
Labour MP John McDonnell, who called for the first parliamentary debate on the issue, has insisted WoW's latest demands be discussed in the House of Commons.
WoW's latest petition had attracted 4,543 signatures as of Thursday afternoon.
You can share this story on social media: