Banksy's 'Dismaland' exhibition features Jimmy Savile 'Punch & Judy' show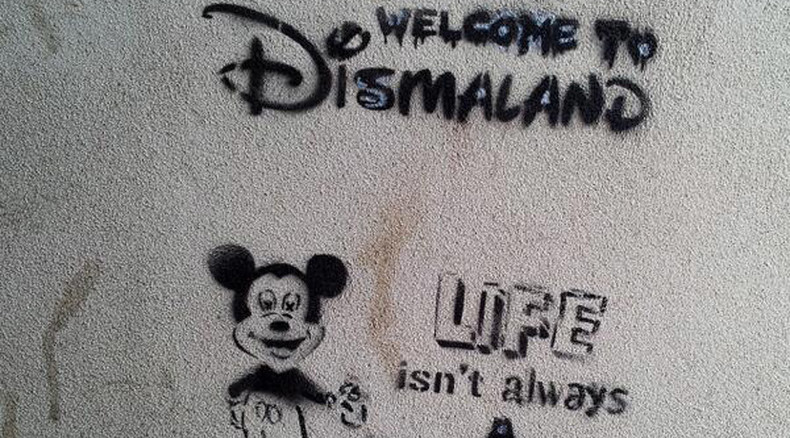 Banksy's rumored new exhibition 'Dismaland' will open at a former outdoor swimming pool in Weston-super-Mare in the west of England. Attractions will include a Punch and Judy show that references disgraced BBC DJ Jimmy Savile.
The anonymous street artist will open his Dismaland "bemusement park," replete with "entry-level anarchism," as a sinister twist on Disneyland.
Described as a "festival of art," the exhibition will open on Saturday and run for five weeks until September 27, from 11am until 11pm.
Visitors will take in the exhibition's main attraction, a Disney-style castle, surrounded by palm trees, a carousel and other amusements for a £3 entry fee.
Other attractions include a Jeffrey Archer Memorial Fire Pit and a sandcastle topped by a windmill and prancing horses made from steel poles.
It will include works by celebrated artists such as Damien Hirst, making it the biggest display of modern art ever seen in North Somerset, according to the exhibition website.
The 'oil caliphate' golf course, allegedly constructed from a Cheltenham Ladies College hockey pitch, is expected to be one of the most popular attractions.
It will also feature a quintessentially English Punch and Judy show, warped with a sinister twist referencing pedophile Jimmy Savile, who abused 500 victims aged between five and 75 through the 1970s and '80s, and the erotic Fifty Shades of Grey novels.
"This could be the biggest thing to hit Weston-Super-Mare since the Beatles came to town in 1963," holidaymaker Mike Rogers told the Mirror.
Banksy's work is always controversial but "this has got to be good for the town," he said.
For months, the former Tropicana lido in North Somerset has been closed. Locals were told a Hollywood production company was filming a thriller at the site.
The council's seafront and events manager Darren Fairchild still insists the former Tropicana lido is being used for filming.
"I have no idea what the film is and there are no Hollywood A listers here," he told the Mirror.
"Come back and talk to me on Thursday and I might tell you something completely different," he added.
Commenting on Banksy's exhibition scheduled to open on Saturday, one Twitter user said: "This all sounds a bit bonkers."