'I'm a human being': Refugee who set himself on fire outside Belfast City Hall speaks out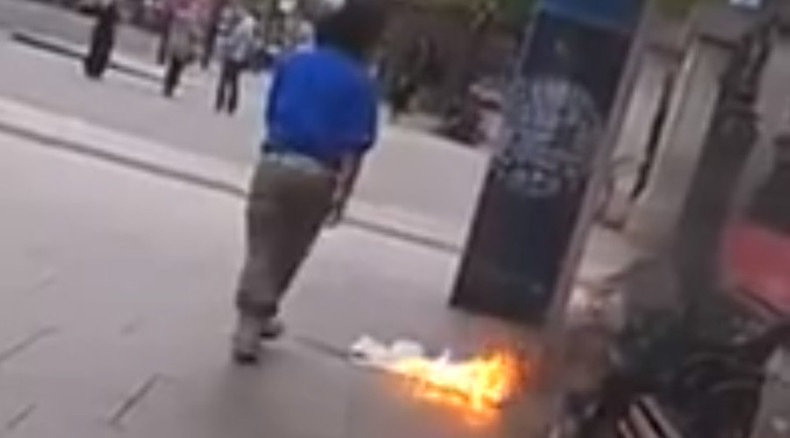 Algerian refugee Faycal Daoud, who last year tried to burn himself alive in protest outside Belfast City Hall, says he was "frustrated" because asylum aid organizations did "nothing" to help him.
In May 2014, Daoud lit a fire on the pavement in Donegal Square North and soaked himself in a flammable liquid before attempting to ignite himself.
Members of the public intervened, restraining Daoud before he could carry out his threat.
Dauod, now 35, says said had not shared his side of the story at the time because the media "didn't want to know."

Speaking to the Belfast Telegraph on Monday, the refugee said he felt "isolated" and "ignored" after being turned away by a number of aid organizations.
Dauod fled Algeria in 2008 to escape poverty, hoping to live a better life in Britain. But since arriving in the UK he has faced new challenges.

"I've suffered too much. I've been beaten, I've been threatened. I'm a human being," he said.
Unable to afford his rent, as his immigration status prevented him from taking employment or receiving benefits, the Algerian was soon evicted from his apartment.

Refugees can wait for years before being granted the right to remain in the UK. Daoud's asylum application was rejected by the Home Office.
The refugee, who has been imprisoned twice, once on conspiracy charges and again for assaulting a policeman, is currently living with the support of friends until he can appeal the decision again.

Daoud has been sleeping in a friend's office, but has to wake up and leave at 5am before employees and bosses arrive.

His appeals to asylum aid organizations for help have been unsuccessful.

"If the organizations for refugees and asylum seekers won't look after them, who will look after me?" Daoud said.

Apart from one organization, "the only ones who cared were my neurologist, my GPs, the epilepsy nurse – they did their best," he said.
Speaking of his attempted self-immolation, Dauod said he walked to the Belfast City Hall with the full intention of burning himself alive.

"I wasn't suicidal, but I was angry and suffering from depression. I just wanted to object [to what was happening]. It was an act of frustration."
On a serious note - the plight of refugees like Faycal Daoud is shameful. They are amongst the most powerless and voiceless in society.

— Lyra McKee (@LyraMcKee) August 17, 2015
He said he thought it was the "right time" and the "right moment" to show he was frustrated.

"Making [refugees] destitute is basically a way of starving them out before they can make another appeal," Belfast-based community worker Josephine Devlin told the Belfast Telegraph.
According to the British Red Cross, the UK received 31,400 applications in 2014, but less than half of the applicants were granted asylum.

They are often rejected when they fail to provide sufficient evidence to meet the government's strict criteria for refugee status.
Writing in The Guardian, immigration and asylum commentator Rev. John Packet said the UK is "failing in its duty" to protect "vulnerable asylum seekers."

Despite the prevailing myth that asylum seekers come to the UK to abuse the benefits system or steal jobs, "they cannot do either," Packet wrote.
"Instead of being treated with respect and humanity, they are forced to live in unsafe accommodation where they are often subjected to racial abuse."