50% of young Brits 'not completely heterosexual' – study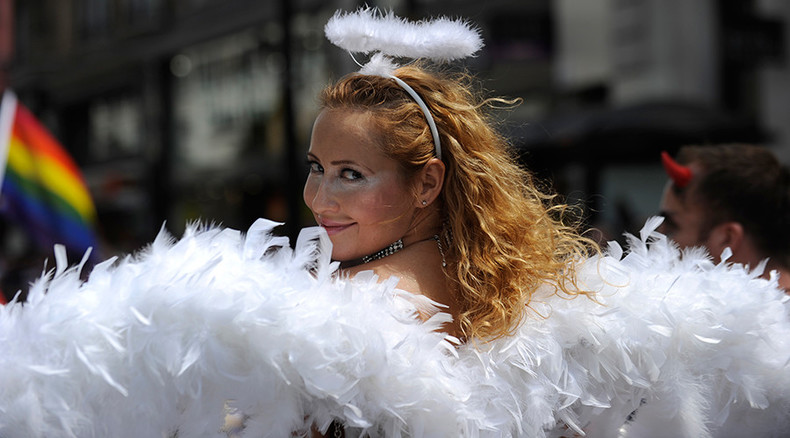 Nearly half of British youngsters do not see themselves as completely heterosexual, a new study has found, with many more 18- to 24-year-olds seeing the traditional boundaries of sexuality as fluid rather than rigid.
The YouGov figures found that within the population as a whole 23 percent of Brits placed themselves as something other than 100 percent heterosexual. That figure rose significantly to 49 percent among 18-24 year olds.
Four percent said they were completely homosexual, while 19 percent said they classed themselves as somewhere in-between.
The results were measured on the Kinsey scale, invented by Alfred Kinsey in the 1940s, which allows individuals to plot their sexual orientation on a scale from 0 to 6, with 0 representing total heterosexuality and 6 denoting complete homosexuality.
The sale shows the closer an individual is to the 'completely bisexual' midpoint (3), the more likely they are to have had a homosexual experience. For example, 23 percent of those at level one have had a sexual experience with a member of the same sex, whereas 52 percent of those at level two had.
READ MORE: 'We used to burn people like you!' Monk pleads guilty to harassing lesbian witches
YouGov found younger generations see their sexuality as less "fixed in stone."
"With each generation, people see their sexuality as less fixed in stone. The results for 18-24-year-olds are particularly striking, as 43 percent place themselves in the non-binary area between 1 and 5, and 52 percent place themselves at one end or the other. Of these, only 46 percent say they are completely heterosexual and 6 percent as completely homosexual," YouGov wrote of the results.
"Clearly, these figures are not measures of active bisexuality – overall, 89 percent of the population describes themselves as heterosexual – but putting yourself at level 1 allows for the possibility of homosexual feelings and experiences," YouGov added.
READ MORE: ​Venice mayor bans books on homosexuality as Europe's gay marriage divide lingers
"More than anything, it indicates an increasingly open-minded approach to sexuality. In a further set of questions asking if respondents could conceivably be attracted to, have sex with or have a relationship with someone of the same sex (if the right person came along at the right time), level 1s were at least 35 percent more likely to say they could than level 0s."
Charlotte Dingle, editor-in-chief of bisexual women's magazine Biscuit, told Pink News that labeling sexuality was increasingly irrelevant.
"Women are increasingly viewing their own sexuality as fluid. I believe that the old definitions of 'gay', 'straight' and 'bi' are increasingly irrelevant in a society in which an individual's sexual and gender identity is becoming more and more complex and diverse."