'It's my last option:' RT meets ex-Afghan interpreter trying to cross into UK from Calais
The Former Afghan interpreter for the British army who was forced to flee his home and is now camping in Calais, France told RT that crossing into UK is his only option, as his life was in danger back in Afghanistan due to Taliban threats.
"I have faced big risks in my life, I have to face this one as well. I have to do this, it's my last option," Khushal, a former interpreter for British Forces in Afghanistan, told RT's Polly Boyko in the migrant camp in Calais – a northern French town flooded by migrants and refugees from across the Middle East and Africa trying to cross the English Channel in search for better life.
Khushal, also known as "Happy" to his former British colleagues, was working as an interpreter for the British Army in Helmand Province, southern Afghanistan. However, when Khushal finished his job with the UK, he started receiving death threats, allegedly from the Taliban. Then his brother was murdered.
READ MORE: Taliban hunts Afghan interpreters who 'betrayed Muslims' by aiding British Army
He applied to come to the UK under the British government's visa scheme for Afghan interpreters. However, Khushal hasn't yet received a response from the British government. So nine months ago he made the decision to go to the UK illegally.
"The rules of the UK are a little bit complicated and a little bit difficult and that's taking time … but I couldn't wait in Kabul."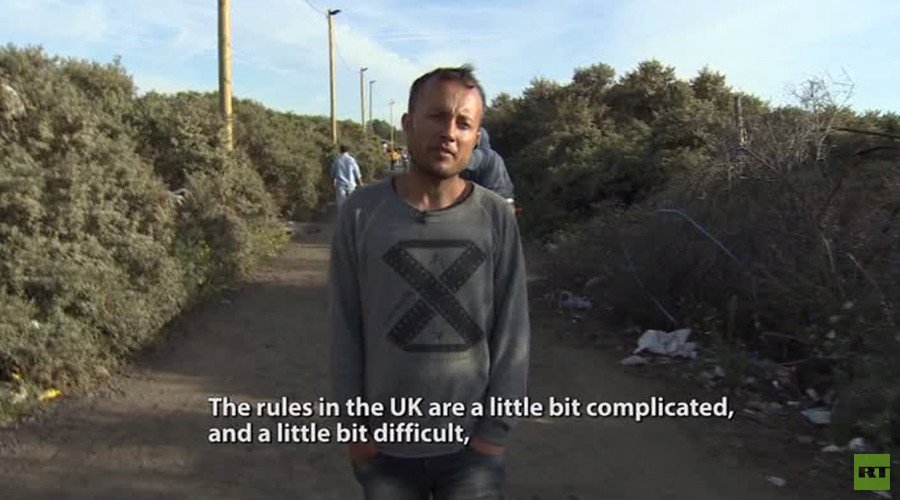 He traversed the Middles East, crossed the Mediterranean, walked across Europe and is now getting ready to cross the English Channel.
And he is being assisted by his former boss, ex-army officer George Tyldesley, who arrived in Calais to support his ex-colleague in his endeavor. He said they are planning to document their attempts to cross the border with the help of hidden cameras.
READ MORE: 'Targeted by Taliban': Afghan interpreter who worked for British Army denied UK asylum
He says that he wanted to "make a sign of solidarity" with Khushal, "a protest at the way he's been treated."
"[Khushal] was an excellent interpreter and he really helped us on our tour, to the extent that I feel that potentially there were times when we might have had blokes being killed, but he was able to give us good advice," Tyldesley told RT.
"You don't get a lot of opportunities in life to really always do something decent, to help somebody out, and this is an opportunity I've had, and I think if it is of any use, then I'll be very glad with that."
READ MORE: 'Comrades & allies': Danish war vets blast govt for denying asylum to Afghan interpreters
RT spoke to another Afghan interpreter, Nematullah, who is also camping in Calais. He was working for US Forces, and says that his life was in danger and that it was hard for him "to live in Afghanistan."
"That's why I came here. I really feel a little bit sorry for my own self, I served for the American people, and still I am here. It doesn't make me angry, but still I feel sorry for my own self," he said.
When UK forces withdrew from Iraq, local interpreters who had worked for them were offered a special assistance program. As part of the scheme, they could opt for a one-off financial payment or an open-ended invitation to enter Britain,.
The majority of the interpreters are hunted by the Taliban who issue death threats for those working with any foreign forces in war-torn Afghanistan.
READ MORE: 'Abandoned': Afghan interpreter refused UK asylum shot by Taliban
The only Afghani interpreters who were offered an opportunity to indefinitely relocate to the UK were those who served in Britain's armed forces from December 2012.
READ MORE: Afghan interpreters win right to challenge 'discriminatory' UK resettlement terms
You can share this story on social media: