Tories move to crack down on illegal workers as migrant crisis intensifies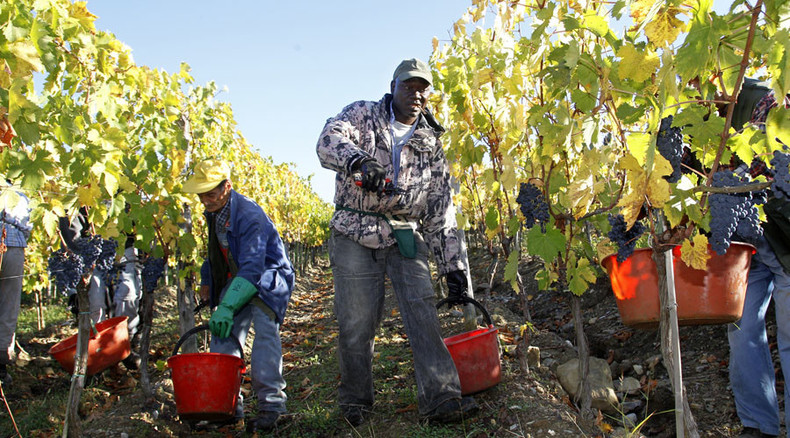 Companies who hire employees that lack legal permission to work in the UK will face raids by immigration officers in an attempt to clamp down on "rogue" business practices, it has emerged.
UK authorities will seek to crack down on such firms by staging raids on companies operating across the state's construction, care and cleaning sectors.
Immigration Minister James Brokenshire said he wanted to tackle employers who hire illegal workers to reduce their costs.
"Rogue employers who give jobs to illegal migrants are denying work to UK citizens and legal migrants are helping [to] drive down wages," he told The Times.
Brokenshire added that the raids would create a "hostile environment" for illegal workers.
The new measures are part of the government's Immigration Bill, due to be published in autumn. The legislation is expected to empower landlords to inspect the immigration status of tenants, while allowing UK authorities to deny driving licenses and bank accounts to illegal workers.
It will also propose labor market reforms in order to stop businesses employing illegal workers, while paying them lower wages.
"Employers who are prepared to cheat employment rules are also likely to breach health and safety rules and pay insufficient tax," Brokenshire said.
"That's why our new approach will be to use the full force of government machinery to hit them from all angles."
The plans come just days after Foreign Secretary Philip Hammond referred to immigrants stranded in Calais as "marauding" and "desperate" individuals who pose a threat to UK security.
Hammond was criticized by Labour leadership hopeful Yvette Cooper for peddling dangerous and divisive anti-immigration rhetoric.
Chief executive of Refugee Action Stephen Hale also stated his concern at the "very strong government narrative," which does not differentiate between asylum seekers and economic immigrants.
"The top three countries from which people seeking asylum come are Eritrea, Sudan and Syria. It's abundantly clear they are fleeing because of war and persecution," he said.
"There is no connection between benefits and their decision to flee."
In recent weeks, there have been a number of arrests involving illegal immigrants.
On Sunday, 18 suspected illegal immigrants who claimed to be from Vietnam were arrested in Hertfordshire. A Polish truck driver was also arrested.
The clampdown comes as news that number of workers on a chicken farm in Kent are suing their former gangmaster for modern slavery charges.
The six Lithuanians are part of a group of more than 30 workers who claim they were forced to work back-to-back shifts in terrible conditions.
Increasing troubles at Calais' Jungle refugee camp have contributed to a spate of ramped up security measures, including the construction of a new fence and 1,000 extra border guards.
Nine people have died attempting to reach the UK so far this year.