Brit grandad leaves family & dachshunds to battle ISIS in Iraq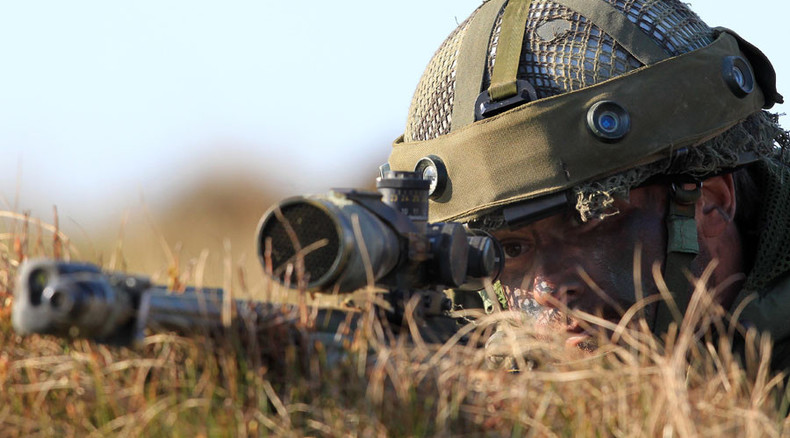 A 53-year-old grandad with no military experience left his beloved family and dachshunds in northeast England to fight Islamic State militants in Iraq.
Jim Atherton, who was enraged by Islamic State (IS, formerly ISIS/ISIL) atrocities in crisis-ridden Iraq and Syria, sold his car and boat to raise money for the military mission.
After raising £18,000 (US$27,900), he left his wife, three sons and pet dogs, and set off for war-torn Iraq. He purchased an RPK light machine gun and Glock pistol upon arrival.
He now operates alongside Christian militia in Iraq protecting a village from nearby jihadist positions, and proudly wears both Union Jack and dachshund badges on his uniform.
Atherton says he couldn't bear to see IS murdering innocent women and children.
"I couldn't stand seeing IS killing women and kids. No one seemed to be doing anything about it, so I decided I would," he told the Sun on Monday.
"People were commenting online about IS atrocities then five minutes later it was all forgotten."
Atherton reported that he had already come under fire from small arms and mortars, and that he had used his weapons in retaliation.
His departure to Iraq comes as reports surface of a British Special Forces marksman who shot a knife-wielding executioner in Syria moments before he tried to kill a Shiite man and his young son.
The operation, which was reported on Monday, took place near Syria's Turkish border in July.
When Britain's Special Air Service (SAS) arrived on the scene, IS had reportedly already killed several people.
An anonymous source told the Daily Star that there were "several decapitated bodies" strewn across the ground.
"Through binoculars the soldiers could see that the crowd were terrified and many were in tears," the source said.
"Everyone just stared in confusion. The sniper then dispatched the two henchmen with single shots – three kills with three bullets.
"Someone from the crowd then ran over and untied the father and son's hands and took their blindfolds off."
Foreign militias exist in a legal gray area. However, clandestine UK operations in Syria have been repeatedly marked with controversy given their lack of democratic approval. Although the previous Lib Dem-Conservative coalition proposed military intervention in Syria in 2013, Parliament rejected the move.
In July, a Freedom of Information (FoI) request by UK charity Reprieve revealed that British pilots had been engaged in combat operations over Syria for quite some time.
The aircrews were embedded with US and Canadian forces as part of an exchange program.
Following the revelations, Defence Secretary Michael Fallon defended the move in parliament. The MoD also sought to downplay the revelations, insisting that Britain has a "long-standing embed program with allies, where small numbers of UK personnel act under the command of host nations."
Following a June massacre by terrorists in Tunisia, which left 30 British tourists dead, senior political and military figures in the UK have once again started to push for airstrikes in Syria.