Uber drivers filmed fighting in London street over scuffed wing mirror (VIDEO)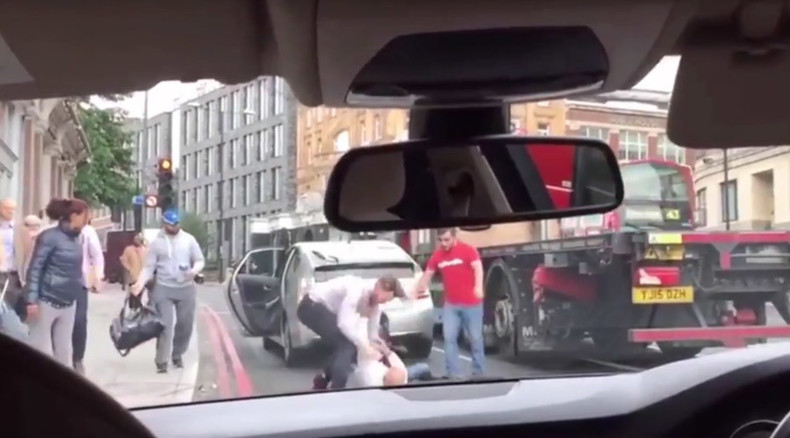 Shocking footage of two Uber drivers brawling over a clipped wing mirror has gone viral on social media.
The fracas began when one minicab, a Toyota Prius, tried to cut in front of another Uber driver's BMW, causing damage to the vehicle's wing mirror. The incident occurred on Wednesday at around 9am in Angel, North London.
Seb Bench, the man who filmed the fight, happened to be seated in one of the Uber taxis when his driver abandoned him to argue with another driver in the street.
The 43-year-old PR boss told the Evening Standard: "Both drivers exited their vehicles to start remonstrating in the street before the initial tussle began."
After a heated argument, the drivers started to fight in the middle of the road.
Unexpectedly, another well-dressed man, who Bench claims was inside the other taxi, joined the brawl. "I have no idea why the other man got involved," he said.
Bench, who was on his way to meet a business client, was "shocked" by what he saw.
On social media, he said: "From left to right – passenger of the other Uber – his driver – my driver! Over a wing mirror! – it was a 1 star trip."
"My guy was obviously angry and there had been pushing and shoving in the first round. But the [other passenger] was full-on aggressive," he told the Evening Standard.
"I didn't think it was going to get as feisty as it did. I was in an 'Exec' Uber, a deluxe one. I did not expect this to happen," he added.
Bench said he was surprised the police were not at the scene.
After filming the fight, he ended up catching a black cab to work in order to make his mid-morning meeting on time.
A spokeswoman for the Metropolitan Police said the force has no record of the incident being reported.
An Uber spokeswoman said: "Uber has a zero tolerance policy to violence from both riders and drivers on the platform and we have reached out to those involved to get more information.
"With all incidents of a serious nature, it's our policy to suspend all parties from the platform while we investigate."