English unrest 4 years on: Police mistrust 'will spark another riot' (VIDEO)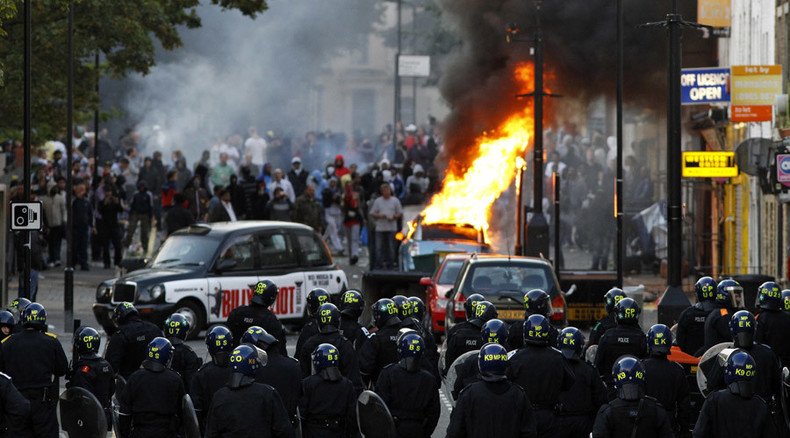 Four years ago, riots tore through English cities in the wake of the police shooting of Mark Duggan. As RT's William Njobvu finds, an uneasy relationship continues to fester between the police and public, which could see violence flare again.
On August 4, 2011, Mark Duggan, a suspected 'Tottenham Man Dem' gang member, was shot twice and killed by police in Ferry Lane, Tottenham, North London.
Officers believed the father of six was in possession of an illegal firearm. No weapon was found on the 29-year-old, but a handgun was discovered in a sock 14ft (4.3 meters) from his body.
Failure to prosecute the gun supplier and alleged police informant Kevin Hutchinson-Foster, who was monitored by Operation Trident months before Duggan was shot, fueled allegations of police conspiracy.
Refusing to accept the official narrative, the Duggan family and the community marched on the local police station, accusing officers of committing a racist murder.
The outpouring of anger escalated into a riot, which quickly spread across London and to other English cities. Over the course of three nights, stores were looted, cars vandalized and buildings torched.
Four years later, the Independent Police Complaints Commission (IPCC) cleared the firearms officer of "any wrongdoing" and ruled Duggan was "throwing a handgun away" when shot.
Mark's mother Pamela, who "wants some closure," continues to call on Home Secretary Theresa May to launch a full public inquiry into the practices of Operation Trident, the Metropolitan Police unit dedicated to gun crime, to uncover what really happened to her son.
'Police and community tension triggered riots'
An Oxford University study found a fundamental cause of the riots was "tensions" between police and the communities where the riots took hold, where residents felt officers showed a "lack of respect."
A teenager who admitted to rioting "out of anger" in his hometown Tottenham, where the riots first ignited told RT the community "still hates the police for what they are."
Speaking to RT on Ferry Lane, the same road where Duggan was killed, the local who asked to remain anonymous said he "wouldn't say much has changed" since the riots.
The scant trust he held in the police vanished after the Duggan incident, while stop-and-search tactics "made everything worse."
He claimed he was only 13 when he was first stopped and searched. Growing up in North London, the police always used to "tell me I look suspicious," he said.
All of those experiences led him to believe the police are against people from black, Asian and minority ethnic (BAME) backgrounds, he added.
It would be "difficult" and "take a lot of convincing" for him to ever trust the police again. "They need to do a lot, they need to do some justice," he said.
The police "think they're at an advantage, to a point where they could probably shoot another guy again." Next time round, the BAME community "will get ticked off" and "they will spark another riot."
"I can most likely picture another riot happening. Anything can happen," he said.
The local identified ethnic profiling in police stop and search tactics as one of the key factors ruining the already-damaged police and community relationship in London.
'Stopped and scarred'
The Riots, Communities and Victims Panel's report, 'After the Riots,' published in 2012 highlights the importance of a healthier relationship between police and ethnic communities in London.
It urged police to "urgently work with communities" to improve their stop-and-search tactics to ensure confidence in the force is widespread.
BAME satisfaction following contact with the police is "significantly worse than it is for white people – 64 percent, compared to 77 percent," it claimed.
The Guardian-London School of Economics' (LSE) study of the riots revealed a key factor in the civil unrest was "discontent" with police, with stop and search among the most hated aspects.
Racial profiling was another key issue, as research from the Equality and Human Rights Commission (EHRC) found police were up to 28 times more likely to stop and search black people between 2008 and 2011.
Speaking to RT in-depth from a Tottenham housing estate, gang mediator and community worker Ken Hinds said after 40 years of feeling victimized, the BAME community call the experience "stop-and-scarred."
Stop-and-search incidents "may scar them [youths] for life and deter them from becoming a good role model," he said.
"We believe black lives matter less than a white life here in Haringey," he added.
When you feel excluded from a community "you will act in a different way than how you would if you valued where you live."
Hinds said there's an "uneasy truce" between the community and the police in Tottenham as the relationship "hasn't improved since" the riots and trust levels "hasn't gotten any better."
"I believe people continue to see the police as the enemy, it's us versus them."
The community wants "fairer policing" and they don't want to be "racially profiled."
After Duggan was killed, Hinds was called into a meeting with local police chiefs. He warned them of the impending unrest, a warning they "didn't heed."
"Until we get justice for Mark and compensation for his children, I don't see how Tottenham can ever recover fully from what took place on that disastrous night."
The community worker, who believes police planted the gun near Duggan's body, said the next riot "is just one bad stop and search away," as forces are "not learning their lesson."
The Macpherson Report into the murder of black teenager Stephen Lawrence accused the Metropolitan Police of "institutional racism." Published in 1999, the report made 70 recommendations, many aimed at improving police attitudes towards racial discrimination.
Lawrence was stabbed to death at the age of 18 in an unprovoked attack by a group of white youths as he waited for a bus in South London in 1993.
The report claimed police were insensitive towards the Lawrence family during their investigation.
It also uncovered a case where officers were found using racially offensive language when speaking about the victim.
'Police have made progress, but more is required'
Edward Badu, commissioner of the citizen's inquiry into the Tottenham riots, says there "has been some progress," but adds, a "lot more is required."
Ethnic-minority stop-and-search rates in London are "looked at more seriously" and this "may not have happened if it had not been for the events we witnessed in 2011."
Citizens UK urged police to recruit more BAME officers to better reflect its community. "We have seen a significant change with regards to new recruits being from ethnic backgrounds," Badu said.
Nevertheless, recent figures released by the College of Policing in June suggest police authorities still need to recruit 17,000 BAME officers over the next decade to accurately reflect the communities they serve.
'We still need to earn the community's trust'
The Metropolitan Police Service (MPS) is optimistic improvements have been made since the riots.
A spokesman for the force told RT elements of the police and community relationship still remain troubled despite "significant progress over many years."
He admitted the MPS still "need to earn and maintain the trust of all London's communities."
In recent years there "has been an increase in the numbers of black and minority ethnic (BME) officers as well as closer contact with communities" to promote fairer policing.
READ MORE: Mark Duggan family: Firearms officers 'protecting' gun sellers, policing inquiry needed
"The MPS investigates allegations of racism against its officers and staff will, we hope, further improve both our internal culture and our relationships with London's communities."
In January 2012, the MPS launched a renewed focus on stop and search to "make it more effective and fair" and since then there has been a "significant improvement."
"There is disparity in the use of stop and search in relation to gender, age and race." The reasons are "complex" and include the power to "tackle gangs and specific crimes."
"We do not underestimate the impact stop and search has on communities and individuals, we know that to maintain public confidence in its use, the power must be used in a fair and effective manner," he said.
'The police don't care, they can spin it all they want'
Black Police Association chairman and former MPS Superintendent Leroy Logan, who worked in the force for over 30 years, dismissed the MPS comments.
There's "not much change" and "still a lot of distrust in Tottenham" because the police "don't know the community," he told RT.
Speaking of his "unfair" experience as an officer, Logan said the MPS tried to "hold him back" from senior roles because of his race.
READ MORE: 'Institutionally racist': London Met policeman in 'planet of the apes' race slur
The "institutional racism" inside the force is now "reflecting into society," he said.
The MPS "can't expect anything to be different" if they "still do things in the same way."
"Young people have a real distrust for the police because of the way they and their friends are treated," he added.
The MPS can "spin it all they want" but the "outcomes will speak louder," he added.
As a result of Duggan's death, the police introduced a cultural change board to tackle racial issues in society. Logan said "they got lazy with it" because issues like this are seen as "a difficult thing to deal with" in the police force.
He said another riot "can easily happen again" and it "might just take that one issue" to trigger it.
"I'm saying all of this from experience over decades, this is from the research and what I've been through."
"If we were really seeing improvement, I'd be the first to say it, but I don't see it."
You can share this story on social media: