London Underground workers strike over 24 hour tube, 'gaping holes in staffing'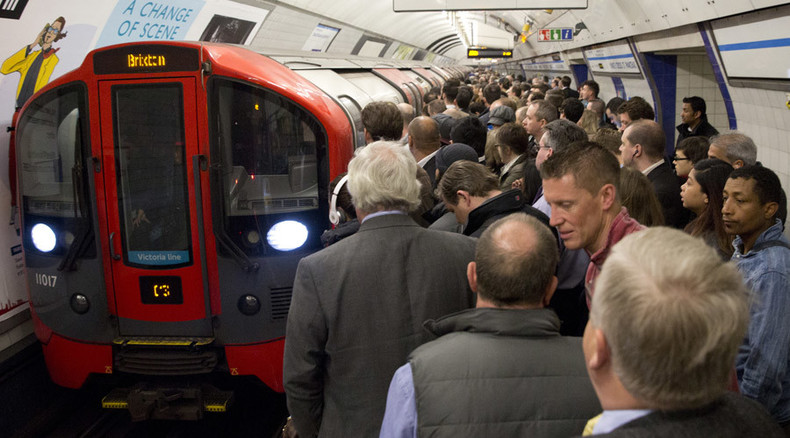 Members of four rail unions will begin 24 hours of strike action from Wednesday night, with all London Underground stations expected to close, as workers reject Transport for London's (TFL) pay offer for the proposed 24 hour tube service.
Attacking the night tube project, Rail, Maritime and Transport (RMT) union general secretary Mick Cash said: "Londoners need to be aware that the night tube was rushed and botched from the off."
According to Cash, that is why "five weeks before it starts staff are striking because they will not accept that their work-life balance should be wrecked to plug the gaping holes in staffing capacity that should have been dealt with from day one."
He also said the initiative carried serious safety risks.
"Millions of weekday commuters, who fork out a fortune in fares, risk seeing their safety compromised and their services reduced to chaos so that a few thousand revelers can be shipped home in the early hours of Saturday and Sunday morning – and experienced tube managers know that."
"We urgently need to get talks convened with tube professionals who understand the reasons behind a crisis, which should never have been allowed to get this far," he added.
#Solidarity with all preparing for #TubeStrike. When junior bankers earn more than doctors, solicitors more than nurses, we have a problem.

— RedTyneside (@RedTyneside) August 5, 2015
That view was echoed by workers from the Associated Society of Locomotive Engineers and Firemen (ASLEF), who will also be striking.
Finn Brennan, a district organizer for ASLEF, told the Guardian: "Management need to back off from this deadline and have a sensible discussion about how it can work.
"There's no rationale for this deadline – they've talked about introducing it for the Rugby World Cup, which takes place in Twickenham, where there's no tube."
The strike follows similar action in July – the biggest tube strike since 2002. London Mayor Boris Johnson condemned the workers and said the current Transport for London (TfL) pay offer was fair.
On Wednesday, Johnson told the BBC: "I think it would be fair to Londoners, to people in this country, if union representatives put this offer – which is an extremely fair and generous offer, and involves above-inflation pay increases, bonuses both for drivers and all other shift workers ... to their members.
"We have only a few hours now to go until they are proposing to try to cause huge inconvenience to loads and loads of people in London and around the southeast of this country. Come on, why don't they put it to their members?" Johnson said.
Steve Griffiths, chief operating officer at London Underground, told the Guardian: "We continue to urge them to put the new offer to their members and not subject Londoners to further unnecessary disruption."
"We remain available for talks at any time."