'Bodies were shredded': Anti-ISIS airstrikes killed hundreds of civilians, report claims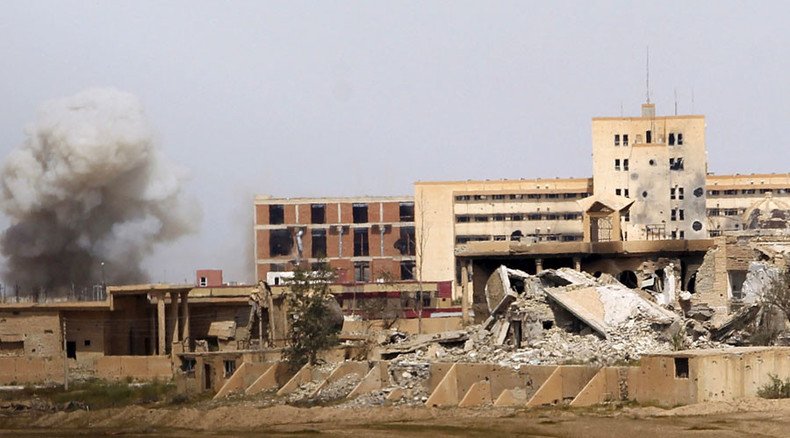 Over 400 civilians have been killed in in the first year of US-led anti-ISIS airstrikes, including 58 non-combatants who were being held in an Islamic State prison for offenses such as buying cigarettes, a major study claims.
The study was carried out by the Air Wars transparency group and written by former BBC Panorama and Newsnight journalist Chris Woods.
The study cites 57 incidents where there is publicly available evidence of civilian deaths by coalition military action.
"Despite claims by the US-led coalition that its airstrikes in Iraq and Syria are 'the most precise and disciplined in the history of aerial warfare,' there are clear indications from the field that many hundreds of non-combatants have been killed," Woods writes in the report's key findings.
According to Air Wars, the largest single death toll was that of 58 non-combatants on December 28, 2014, in Al Bab, Syria, when an airstrike hit an Islamic State headquarters which doubled as a prison.
Among the dead at Al Bab are believed to be four women and a number of teenagers, with some of those killed thought to have been imprisoned for buying cigarettes.
In another incident in February 2015, Ibrahim al-Mussul, a farmer in his sixties, and his two daughters were allegedly killed in an airstrike near the town of Shadadi, Syria, close to an oilfield targeted by the coalition.
"Their bodies were shredded. We found Ibrahim's hand next to the house, and we were still collecting bits of flesh and body parts into the early hours of the following morning," an eyewitness said.
Writing on the challenges of collating casualty numbers, Air War's Syria researcher Kinda Haddad explained in one section of the report: "Civilians are dying in unacceptable numbers as a result of military action by so many different actors in both Syria and Iraq.
"It's not just the coalition, but also government troops; a large number of different opposition forces; Shia'a and Kurdish militias; and of course Islamic State or Daesh."
The study also notes that the UK Ministry of Defence, in particular, amends and changes its reporting of incidents, making it difficult to assess what is happening on the ground.
"The Ministry of Defence has on occasion significantly amended or even removed earlier copy, making the process of accurately tracking some reports difficult," the study found. "The UK also does not report on airstrikes in Syria carried out by British air crews embedded with allied forces."
"The coalition has often spoken of the power of Daesh propaganda as a weapon, and how it must be countered. Yet at the same time, the coalition's near-total denial of having caused civilian casualties continues to damage its own credibility," the report claims.
Air Wars said the proper reporting and investigation of civilian deaths by coalition action should be undertaken and that such an initiative would make strategic sense.
"Conducting prompt and effective investigations into all credible claims of civilian casualties – and publishing those findings – would go some way towards countering such militant propaganda, while addressing the very real concerns of Iraqi and Syrian civilians on the ground," they said.
You can share this story on social media: