Corbyn outlines plan to end austerity, tackle corporate tax dodging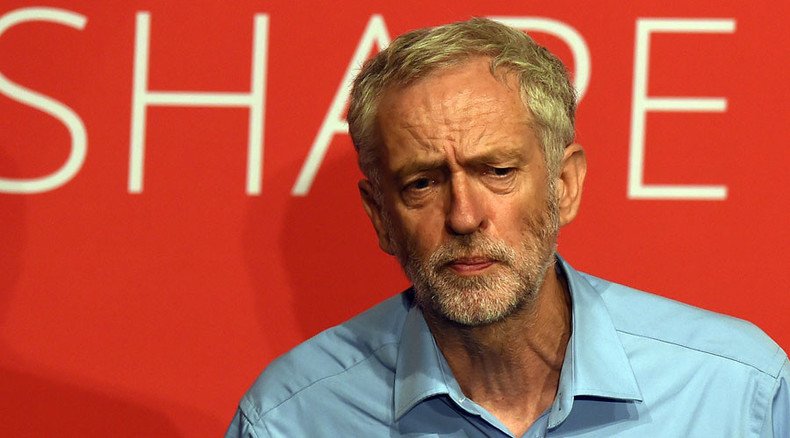 Jeremy Corbyn cast aside scathing criticism of his economic policy agenda on Monday as he unveiled plans to end austerity, tackle growing inequality, crack down on corporate tax dodging and help create a thriving, highly skilled workforce.
Corbyn's economic policy plan centers on rebalancing the state's economy to create a more just, productive, and "prosperity-focused economy."
He relayed his vision for Britain's economy at several Labour leadership rallies across the UK on Monday.
Corbyn placed a strong emphasis on the need for tax justice and has pledged to tackle tax avoidance and evasion should he become party leader. He is also calling for the founding of a National Investment Bank to promote state investment in infrastructure and innovation.
Corbyn is adamant Labour would seek to close the deficit by cultivating a robust, productive economy that works for society at large. He insists austerity policies are not an economic necessity, but rather are a political choice. He says he would always strive to protect public services and society's most vulnerable where tough choices emerge.
'People's quantitative easing'
The Labour leadership hopeful says "people's quantitative easing" would form a key part of his policy agenda. He argues the Bank of England could be given a fresh mandate to invest in construction, energy, digital and transport projects.
Corbyn also suggests big business should be stripped of massive tax breaks and subsidies that currently total £93 billion a year. He says this money could be better spent on public investment, which would in turn stimulate the private sector.
Detailed analysis conducted in 2014 by left-leaning economist and tax expert Richard Murphy indicates the government loses £120 billion in tax revenues annually. The £120 billion figure is made up of £20 billion in tax debt, £20 billion in tax avoidance and £80 billion in tax evasion.
Corbyn says this revenue could double the National Health Service's (NHS) budget. He argues Britons cannot expect a progressive tax system unless tax laws are robust and enforceable.
The Labour left-winger proposes to alter how small businesses are taxed to discourage tax avoidance and evasion, and introduce state-by-state reporting for global firms.
He also proposes regulatory reforms to ensure firms operating in the UK pay the taxes they owe, and staff cuts at HM Revenue and Customs and Companies House are halted.
Corbyn's critics fight back
Corbyn's policy prescriptions have attracted heated criticism from Blairite Labour politicians and those who back the "austerity-lite" policies of outgoing leader Ed Miliband.
Labour's shadow chancellor MP Chris Leslie, who previously served as a minister in Tony Blair's government, said Corbyn's "starry-eyed, hard left" economic strategies are doomed to fail.
Leslie argued that the election of Corbyn as party leader would prove disastrous for Britain's most vulnerable, leading to higher interest rates, higher levels of inflation and Tory rule for a further decade.
Leslie, who is backing Shadow Home Secretary Yvette Cooper in the race, told BBC Radio 4's Today program on Monday that frustration is rife in Labour's ranks.
But he warned against policies of the "hard left," claiming they would hurt the poorest and most vulnerable in society.
Leslie sharply criticized Corbyn's pledge to free up billions through progressive taxation policies, warning it would create a "black hole in the public finances." He said he would not serve in a Corbyn shadow cabinet, and claimed that Labour would lose economic credibility with Corbyn as leader.
'Investing in real economy'
UK economist and tax expert Richard Murphy dismissed Leslie's criticisms, insisting that Corbyn was calling for "substantial action" to be taken against "tax abuse," rather than the immediate recovery of the revenue lost through tax dodging.
Murphy described Leslie's criticism of Corbyn's plans for public investment as "absurd."
While Leslie argued the Bank of England's move to print money would drive up inflation and interest rates, making the cost of living higher for ordinary Britons, Murphy disagreed.
In a blog post published on Monday, the economist said "people's quantitative easing" differs markedly from quantitative easing as it is traditionally understood.
The quantitative easing employed by UK governments from 2009 to 2012 did not see funds flowing into Britain's "productive economy," but rather into "house price and asset speculation," Murphy said.
This benefited bankers, who found themselves with "costless money to speculate," he added.
Under Corbyn's policy, however, debt would be repurchased deliberately and issued by councils, health trusts or a green investment bank for the purpose of funding new forms of investment.
Murphy argued that such an approach is vital in an economic climate where financial markets and big business are failing to deliver the level of investment Britain needs.
He said the funds freed up by "people's quantitative easing" would not be funneled into asset speculation and drive up inflation, as Leslie suggested, because banks would be excluded from the loop.
Murphy concluded that printing money would not necessarily lead to inflation, as advocates of austerity suggest, particularly if there was an overall shortage of cash in the economy. Likewise, he argued quantitative easing would not necessarily increase the government's debt burden.
Deep devisions
Labour's leadership contest will come to a close September 12. Critics warn that, whoever wins, deep policy divisions between Blairites and the party's socialist left will linger.
On Sunday, former Labour leader Neil Kinnock weighed into the leadership debate, warning of the dangers posed by a Corbyn victory.
Writing in The Observer, Kinnock said the "Trotskyite left and the Telegraph right" are seeking to manipulate the leadership contest with "malign purposes." He suggested this trend was working in Corbyn's favor.
Leftist Labour voters argue anti-austerity policies that will challenge the status quo and create a more just and equal economy are paramount. However, centrists and those of the center-left warn of the importance of implementing socially responsible policies that are economically credible.
Former MP and London mayoral candidate George Galloway has said he would be quick to rejoin Labour if Corbyn is elected leader.
The unions have also endorsed Corbyn as their favored candidate, saying he is offering Labour a chance to reject pro-market policies.
On Saturday, Corbyn received a rank-and-file boost at a rally in Liverpool, the heartland of Labour's socialist left in the 1980s.
Speaking to an estimated audience of 1,700 local supporters, Corbyn pledged: "If I don't win I'll carry on doing what I'm doing. If I do win I'll carry on doing what I'm doing."
Local news website Liverpool Confidential warned against dismissing those at the event as radical lefists.
"To dismiss the audience as Trots, Communists or deluded lefties would be an insult. The overflowing room was crammed with men, women and children from all walks of life," the news site said.
"Some were political stalwarts and familiar faces. Many more were alert young people who will never, ever, in their lives have witnessed anything like this."
You can share this story on social media: