Hiroshima, Nagasaki 70th anniversary: Anti-Trident activists join global fast against nukes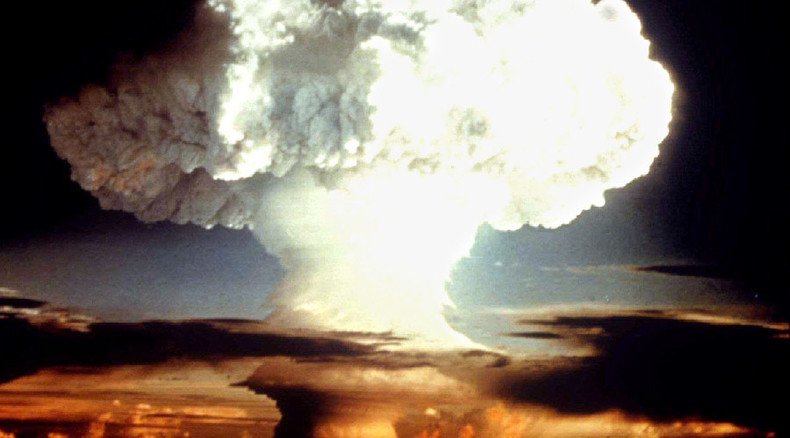 Anti-nuclear activists will mark the 70th anniversary of the atomic bombings of Hiroshima and Nagasaki next week by taking part in a four-day fast against Trident.
Campaigners in the UK will join an international protest against nuclear weapons organized to commemorate the anniversary of the Hiroshima and Nagasaki bombings in August 1945.
Fasts will start on Thursday August 6 and take place in Edinburgh and London to coincide with those held in France, Germany and the United States.

Trident Ploughshares organizer Angie Zelter said protestors want to see a global ban of nukes and an end to Britain's Trident nuclear weapons program.

Zelter said in a statement: "I am fasting for real security for all. Nuclear weapons must be banned and the world community must work together to tackle climate change. Major political and economic changes must be made if our world is to support life in the future.
"Our presence outside the Ministry of Defence on this 70th anniversary of the nuclear war crimes committed by the USA in Hiroshima and Nagasaki is a demand for change. Trident must not be renewed."
America was the first nation to use nuclear weapons against an enemy target when they dropped atomic bombs on Hiroshima and Nagasaki at the end of World War II – attacks which took place on August 6 and 9, 1945.

Between 70,000 and 146,000 civilians died as a result of the Hiroshima bomb – a device nicknamed "Little Boy" by the US Air Force – and up to 80,000 were believed killed in the Nagasaki attack by "Fat Man."

Thousands died from radiation sickness in the months following the blasts, while up to 1,900 people developed cancers in the ensuing years.
Campaigners will use the anniversary to highlight the enduring threat of nuclear weapons in the world today and the upcoming parliamentary debate over whether to renew Britain's Trident nuclear weapons program.
Trident Ploughshares said: "The current global stockpile of 16,000 nuclear bombs threatens the whole of humanity. Nuclear strikes whether provoked by human folly, error, or by accident, could trigger a nuclear war and lead to the destruction of humankind."

The campaign group refuted the idea that nuclear weapons are necessary to keep a nation safe by arguing security is a global issue for all countries.
With regard to Britain's naval nuclear deterrent Trident, they pointed out the enormous cost of renewing the program.

"In 2016, the UK Parliament will vote on the replacement of the Trident nuclear weapons system. If confirmed, replacement will cost over £100 billion of public money, money taken from safe renewable energy, healthcare, education, and environmental protection projects."

Christian CND, London Women in Black, Action AWE and Quakers will also join the fast, which will take place outside the Ministry of Defence in London over four days.

Haringey CND member Marc Morgan said: "The international dimension of the fast is absolutely critical.

"The folly of nuclear weapons is perpetrated by a small number of rogue nations – and I am ashamed that this includes my two countries (I am dual national French-British); but that folly threatens the whole of humankind, and all citizens everywhere are called upon to protest until it ceases," he added.
You can share this story on social media: