London's Olympic Park Tower to become world's longest tunnel slide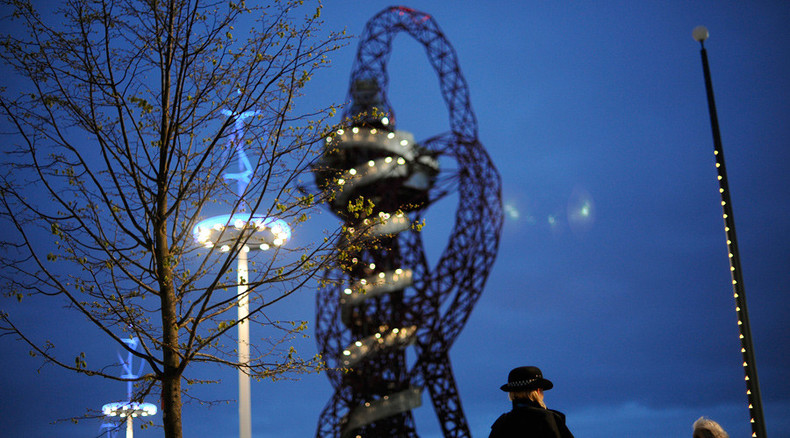 From towering sculpture to giant helter-skelter: the Olympic Park Tower in Stratford, northeast London, will be transformed into an epic funfair ride for the visiting public.
The tower, designed by Turner-prize winning sculptor Anish Kapoor, will eventually house a 180-meter enclosed tunnel through which members of the public will whoosh at dizzying speeds before popping out at the bottom upon a 50-meter deceleration area.
OMG they're planning on turning the Orbit (that red tower) in the Olympic Park into the world's tallest and longest slide

— Saira (@SuikaSas) July 30, 2015
A ride on the spiraling tube, which could open as early as next spring, will likely cost around £5 (US$7.80).
When complete, it will be the longest tunnel slide in the world.
The structure, which was built for the 2012 London Olympics, is made of 2,000 tons of steel and stands at 114.5 meters in height, making it the tallest sculpture in the world.
Visitors can already abseil from the tower, at a cost of £85, though the slide will the quickest way down by far.
The tower, which was commissioned by Mayor Boris Johnson, was inspired by the mythical Tower of Babel. A trip to the top on foot requires visitors to climb 455 steps.
At the time of its unveiling Boris Johnson said the tower would give London a "perfect iconic cultural legacy" from the Olympics.
"What more exciting way to descend the ArcelorMittal Orbit than on the world's longest and tallest tunnel slide?" the Olympic Park customer relations team told City AM.
"We are committed to ensuring our visitors have the best possible day out every time they visit Queen Elizabeth Olympic Park, and as with all our venues, we are constantly exploring ways to ensure we lead the way with the latest visitor experience.
"This slide really will give a different perspective of Britain's tallest sculpture."