50 Britons killed fighting for jihadists in Syria, including 8 teens
Published time: 29 Jul, 2015 17:10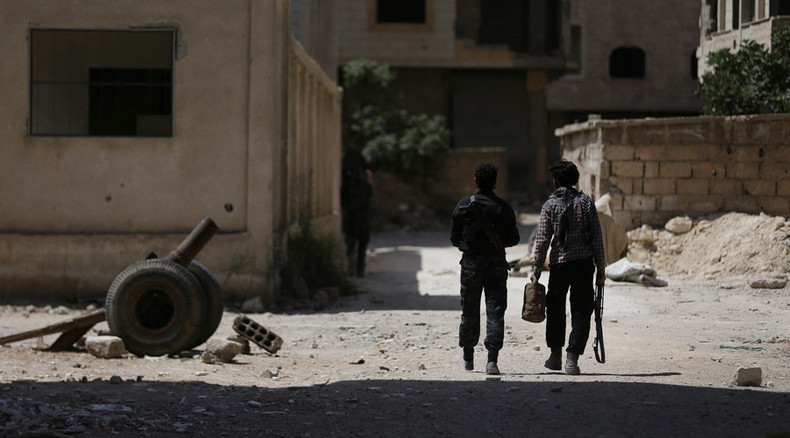 Some 50 Britons have died fighting alongside Islamist militants in Iraq and Syria since 2012, eight of whom were teenagers, it has emerged. 
The human toll of extremism in the crisis-ridden states was uncovered by a joint investigation conducted by the UK-based International Centre for the Study of Radicalization (ICSR) and The Guardian.
The research, published Wednesday, shows the deceased were all male.
They include 16-year-old Jaffar Deghayes from Brighton, who reportedly died fighting for Jabhat al-Nusra. The Syrian Islamist group are said to have a shared history with al-Qaeda.
The oldest man to die was 41-year-old Abdul Waheed Majeed.
Majeed was a Crawley-based truck driver who acted as a suicide bomber for Jabhat al-Nusra. He plowed a truck laden with explosives into a prison in Aleppo, Syria, in February 2014.
Jabhat al-Nusra is a militarized group fighting against Syrian President Bashar Assad's Ba'athist regime. It reportedly seeks to set up an Islamist state in war-torn Syria.
Shiraz Maher, a leading researcher at the ICSR, says data gathered by the think tank shows Britons' role in the Syrian and Iraqi conflict is undeniable.
"It is clear that British foreign fighters are not in Syria to take a back seat in the conflict," he told The Guardian.
"They are full participants in the war, serving on the frontlines while also volunteering for some of the most risky combat roles available."
The ICSR estimates that over 700 Britons have fought alongside Islamist militants in the Syrian conflict since 2012.
The average age of Brits killed while fighting for jihadists in the region is believed to be 23.
The Arab Spring swept Syria in March 2011 as a wave of peaceful protests that escalated following a savage crackdown by Assad's regime.
Nestled between Turkey, Jordan, Iraq, Lebanon and Israel, Syria's geopolitical location makes its security a global concern.
Since the Syrian uprising began and later became a full blown civil war, violence from the war-torn country has spread into neighboring Iraq and other states.
Analysts warn the threat of further destabilization in the Middle East is rife.
The conflict has spiraled into a proxy war, with the foreign policy agendas of a number of states playing out on the ground.
The bloody war has spawned multiple rebel groups that wish to topple Assad's regime. Terror group Islamic State have also seized upon instability in the war-torn region and established a base there.
Among the 50 deceased Britons identified by the ICSR were seven jihadists who blew themselves up.
Others who died, such as Mohammed el-Araj from West London, had former criminal convictions linked to extremist behavior. El-Araj had spent 18 months in prison, following a violent protest outside London's Israeli embassy in 2009. He died in Syria in August 2013.