Face of Copper Age 'Thankerton Man' resurrected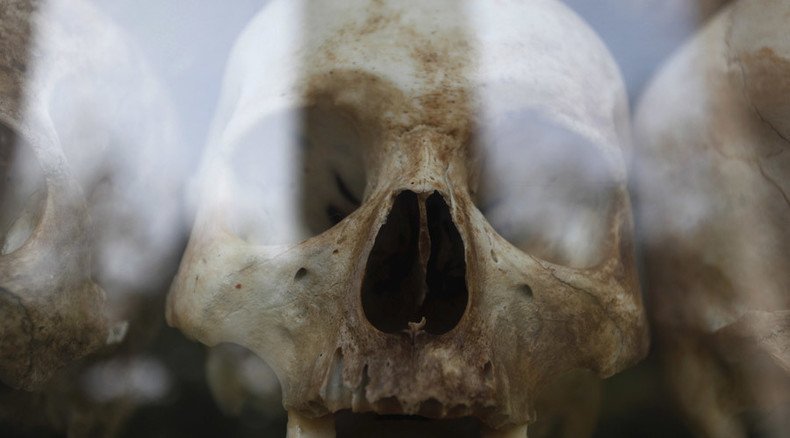 Researchers at the University of Dundee have created a facial reconstruction of a strapping 5ft 11in prehistoric man who died over 4,000 years ago.
The Copper Age Scot, dubbed "Thankerton Man," is thought to have been in his late teens to mid-twenties when he passed away.
His skeleton was first discovered in 1970 in Thankerton Quarry, South Lanarkshire. He had been laid to rest in an ancient burial tomb known as a cist.
Historians believe individual burials in the slab-built boxes began prior to 2000 BC. The deceased who were buried in these tombs were often laid alongside their personal belongings. Cists are often uncovered during gravel-quarrying or ploughing.
Thankerton Man's model head will be exhibited at the Biggar and Upper Clydesdale Museum in in Southern Scotland.
The museum documents 14,000 years of rural and village life in the Scottish district. It explores the lives of those who lived and worked there from prehistoric times up until the 1950s.
The reconstruction of Thankerton Man's head was created by scientists from Dundee University's Centre for Anatomy and Human Identification (CAHID) who drew from detailed analysis of his skull.
Caroline Erolin, lecturer in forensic and medical art at CAHID, told the BBC the prehistoric man's skeleton is in good condition.
"Given its age, the skeleton of Thankerton Man was in excellent condition, which allowed us to get a strong impression of how he may have looked," she said.
"Once we built the basic shape of his face we then looked at historical data to get a better idea of how a man would have looked at that time."
Thankerton Man's cist contained an ornately decorated beaker that was used to hold food or drink. It was laid beside him to assist him with his soul's transition into the afterlife.
An archaeological study, funded by the Wellcome Trust, found that most European men are descended from three Bronzer Age forefathers.
The research, which was published in May, claimed that over 66 percent of all European men originate from just three Bronze Age ancestors.
Led by Professor Mark Jobling from the University of Leicester's Department of Genetics, the study said a population explosion several thousand years ago may mean just a few dominant males from the prehistoric era passed on many of the Y chromosomes found in European men today.
You can share this story on social media: