Far-right EDL to march in North East 'against immigration center closure'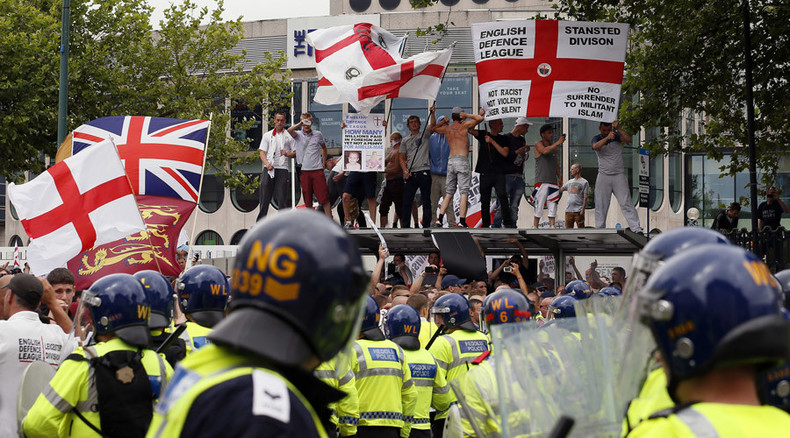 Hundreds of far-right English Defence League (EDL) supporters will march in North Shields near Newcastle on Saturday to protest the possible closure of an immigration center.
In a statement on its Facebook page, the EDL implies the immigration office is needed to combat an alleged "massive rise" in crime from illegal foreigners living in the North East of England.
Outraged anti-fascist groups have announced plans for a counter demonstration to be held on the same day.

Local police have promised to try to keep disruption to the local community to a minimum.
The EDL says its demonstration is in response to the planned closure of an immigration office in North Shields, which is responsible for apprehending illegal immigrants living in the region.

The Home Office said it was closing the center to "deliver best value for the taxpayer."

Some 270 people have already indicated they will be attending the EDL demonstration, according to the local Chronicle newspaper.

A statement from the EDL posted on social media said: "Over the last few years we have saw [sic] a massive rise in criminal activity regarding legal and illegal foreigners living within the North East, with crimes such as rape, grooming, drug dealing, violence etc. ... considered the 'norm' yet the Home Office wants to close this much needed office down?

"We the [North East EDL] say 'NO' this cannot happen & we will take to the streets to voice our disgust at this decision."
Saturday's protest comes a few months after a small and unsuccessful "anti-Islamization" protest in Newcastle held by the English branch of Pegida (Patriotic Europeans Against the Islamisation of the West) in February this year, in which members of the EDL participated.
Unite Against Fascism (UAF) announced plans for a counter demonstration.

UAF said in a statement: "Migrant workers, immigrants, asylum seekers and members of any one faith are not responsible for financial crises, hardship, cuts and unemployment."

"The North East has a well-deserved reputation for solidarity and social cohesion. We pride ourselves on the diversity of our communities and our mixed heritages."

A Northumbria Police spokeswoman said: "Members of EDL have contacted police to inform us they plan to hold a peaceful protest in North Shields on Saturday, August 1. We have also been informed there are plans for a counter demonstration to take place.

"We recognize members of the community, local businesses and the general public may be concerned about the potential impact these events will have and plans are in place to keep disruption to the local community is kept to a minimum.

"The right to peaceful protest is a fundamental democratic right laid down by the European Convention and we respect this right," she added.