UK rabbis denounce Israel's 'unjust' demolition of Palestinian village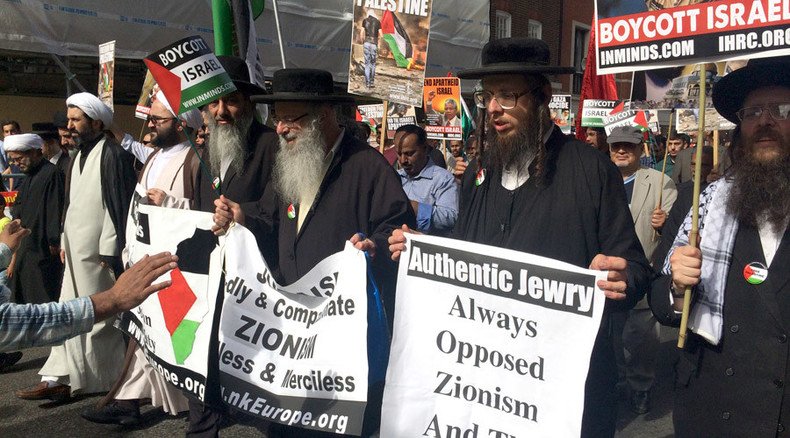 A group of 30 rabbis has criticized the "unjust" demolition of Palestinian homes in the West Bank in a letter to Israel's outgoing ambassador to the UK.
The British Friends of Rabbis for Human Rights spoke out against the impending destruction of a small Palestinian community in Susiya in the West Bank, which would leave 450 residents homeless.
Among the signatories were senior rabbis from synagogues across the UK, but mostly from the Liberal and Reform movements.
The United Nations Development and Humanitarian Coordinator for Palestine has warned that if Israel goes ahead with the demolition of Susiya it will constitute a violation of international humanitarian law.
In an open letter to Israel's outgoing Ambassador to the UK Daniel Taub, a group of rabbis asked the diplomat to "do what you can" to stop the destruction of Palestinian homes in the West Bank village.
The signatories, including senior rabbis from a range of synagogues, said they were writing to the ambassador out "out of deep commitment to Israel and to Judaism."
They noted in their letter that it was recently Tisha b'av, a religious day marking the destruction of the first and second temples in Jerusalem.
"[The] injustice of destroying the homes of the villagers of Susiya therefore feels especially poignant," the rabbis said.
In May 2015 Israel's High Court approved a request by the Israeli Civil Administration – a military branch responsible for governing the West Bank – for the demolition of Susiya.
Villagers said they had applied for permission to build permanent structures at the barren site in 2012, but the Civil Administration rejected the plans and issued demolition orders for the whole village.
In their letter to Taub, British rabbis criticized the recent ruling to demolish the makeshift tents and buildings that make up Susiya village because they were erected without a permit.
The court ruling "reflects the greater injustice in which 94 percent of all residential building applications are routinely denied to over 150,000 Palestinians," they said.
"The proposed action in Susiya is not only in itself unjust, but reflects badly on Israel's image in the eyes of other nations and in the view of much of the Jewish community itself," the rabbis added.
Some 200 Israeli artists, authors and public figures have signed an open letter to the Israeli government in which they describe the proposed demolition of the houses as "cruel, immoral and illegal."
UN Humanitarian Coordinator for the Occupied Palestinian Territories Robert Piper said the case of Susiya was representative of a wider injustice taking place across Palestine.
"Susiya is emblematic of a pattern of injustice that is repeating itself across many parts of the West Bank," he said.
"Too many communities are coming under multiple threats and intimidation – by legal process, by bulldozer, by settler violence – to relocate completely or relinquish surrounding agricultural and grazing lands on which their livelihoods depend. The international community cannot stand by and witness these acts in silence."
Piper added that the destruction of private property in an occupied territory is prohibited under international humanitarian law, and called on Israeli authorities to suspend all demolitions of Palestinian structures in Area C – occupied territory in the West Bank which remains under full Israeli civil and military control – and to provide its residents with an appropriate planning and permit regime.
Britain's Minister for the Middle East Tobias Ellwood expressed concern about the imminent demolition of Susiya.
"The UK is deeply concerned by reports that planning for 1,065 settlement units is being advanced, including possible retrospective approval of buildings built without permits or on private Palestinian land," he said in a statement.
"The UK's position on Israeli settlements is clear: they are illegal under international law and undermine the prospects for a two-state solution.
"We call on the Israeli government to discard these plans and refrain from such steps. Every settlement announcement has a negative impact on prospects for peace and a negotiated solution," he added.
This latest criticism of Israel's demolition policy coincides with a dance flashmob in London on Sunday, organized to commemorate Palestinian victims in last year's Gaza war.
A group of protestors performed a dabke dance – which originates in Palestine and neighboring countries – in the British Museum and outside a Barclays Bank branch on Tottenham Court Road.
Protest organizer Sharish Desan said the protest was a form of "cultural resistance" in which the dabke dance acts as a representation of solidarity, love of life and determination.
You can share this story on social media: