3yo child identified as UK terror threat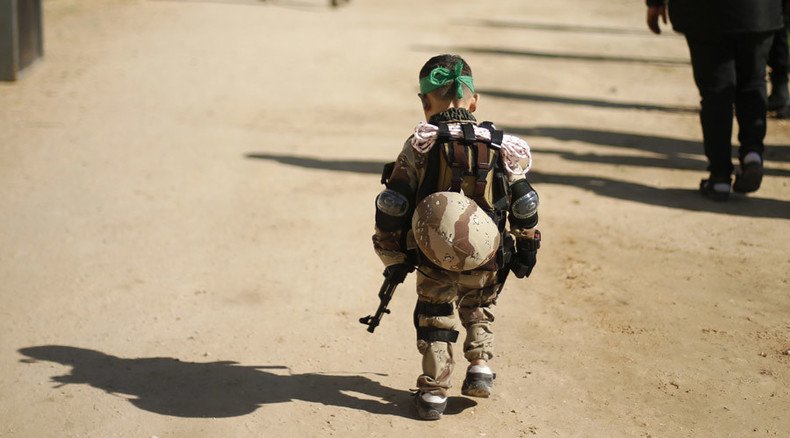 More than 1,000 Londoners have been identified as being potential extremists or at risk of radicalization, including a three-year-old child, new figures show.
The numbers, revealed by the Evening Standard on Monday, show the tally of Londoners referred to the government's 'Channel' counter-extremism program since the beginning of 2012.
In total, nearly 4,000 individuals were referred to the scheme, with 400 referrals made for teenagers and children under the age of 18. In London, there were 1,069 referrals, making up a quarter of the national total.
The preschooler is reported to be from Tower Hamlets, and was referred as "part of a wider family group" whose behavior had raised concern.
There are concerns the referral of young people will continue as individuals are drawn to the Islamic State (IS, formerly ISIS/ISIL).
'Channel' is part of the government's Prevent program, which coordinates its counter-terror strategy and aims to stop radicalization.
It involves the efforts of police, medical staff, social workers and others to work with people seen to be at risk or engaged in extremist activity.
London Assembly member Murad Qureshi obtained the figures from Mayor Boris Johnson. He told the Standard he believed the best way to tackle extremism is though community led projects.
"The figures certainly show the extent of it and this now needs to move into the educational arena," he said.
"It's useful for the Met to be on top of the issue. But we need to see a community approach, with schools and education at the forefront of that.
"Simple history lessons about Islamic states which have failed in the past could be useful, as opposed to some of the propaganda from other sources," he added.
Head of Scotland Yard's Counter Terrorism Command Commander Richard Walton said, "The earlier we can intervene to prevent radicalization the better.
"It is good that we are receiving more referrals as it shows that the people of London understand the dangers of extremism and the need to speak out. Everyone can play a part in keeping London safe."
Haras Rafiq, managing director of counter-extremism think tank Quilliam, added that more work needed to be done in London's most vulnerable boroughs.
"Generally, across London, Channel alone is already bursting at the seams. It is a particular London problem when we know that about half the people who have gone to Iraq and Syria are from London and there are parts of London where this ideology needs to be challenged."
You can share this story on social media: