Tory vow to tackle money laundering in UK rubbished by experts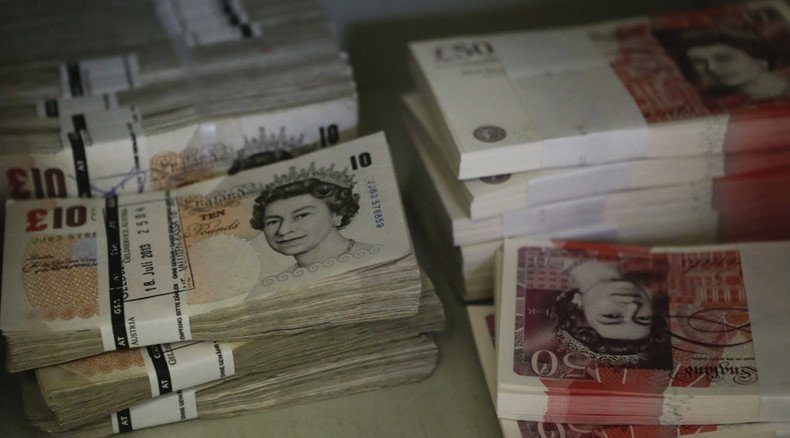 White-collar criminals who launder billions by buying luxury UK properties must be tackled, Prime Minister David Cameron said on Tuesday. Experts warn these fraudsters are distorting the UK property market and pushing up house prices in the process.
Cameron's criticism of money laundering formed part of a broader speech on trade and corruption in Singapore.
He expressed deep concern that luxury properties, primarily in London, are being purchased by foreigners through opaque shell companies to launder dirty money.
While tax evasion and corruption are likely to be the most common sources of ill-gotten gains in Britain, drug dealing, human trafficking and black-marketeering are also potential origins.
Cameron said offshore firms own a £122 billion share of the UK's property market, and many of these "high value" properties are bought through secretive holding companies nestled in tax havens.
"I want Britain to be the most open country in the world for investment. But I want to ensure that all this money is clean money," he said.
"There is no place for dirty money in Britain. Indeed, there should be no place for dirty money anywhere."
Cameron pledged to bring in new measures to fight money laundering in the UK and cultivate greater transparency. He announced plans to introduce a central public land registry of offshore firms that will publicly disclose what land they own.
Although it is currently possible to discern the names of UK individuals who own property deeds by submitting an application, the updated land registry will make this process easier, offer more detail and cover offshore firms.
The government will also consult experts on whether to diversify the register to include both the true owners of UK firms and the owners of offshore companies with government contracts.
Such a move would tackle financial secrecy and may make it easier for UK regulators, MPs and transparency campaigners to decipher the owners of properties used to clean dirty money.
Money laundering haven
In March, it emerged Scotland Yard suspected criminals, tax evaders, human traffickers and drug dealers of having laundered billions of pounds worth of dirty money by purchasing British properties through anonymous offshore companies.
The sheer scale of the problem was uncovered in a report produced by anti-corruption think tank Transparency International (TI) UK. Published in March, the study warned the UK had become "a safe haven for corrupt capital stolen from around the world."
The Metropolitan Police said at the time more than £180 million (US$276 million) worth of British property had been subject to criminal investigation since 2004 as potential proceeds from corruption. Detectives added this figure was merely the tip of the iceberg.
Among the foreign fraudsters who have bought multiple luxury properties in London, is a convicted Nigerian ex-governor and white collar criminal. Reflecting on this case, Cameron insisted the UK must not become "a safe haven" for dirty money plundered from impoverished people.
In London, roughly 36,342 properties have been purchased through clandestine front companies in offshore tax havens. Favored locations include the British Virgin Islands, the Isle of Man and Jersey.
Britain's wealthiest borough, Westminster, has the highest proportion of properties held offshore (almost 10 percent), while Kensington and Chelsea follows closely (7.3 percent).
Although many of these sales remain secret for privacy purposes, a large proportion are thought to have been purchased to stash ill-gotten gains.
'Corruption is an enemy of progress'
Director of the National Crime Agency's Economic Crime Command unit Donald Toon argues foreign criminals are distorting Britain's property market.
"Prices of high-end property are being artificially driven up by the desire of overseas criminals to sequester their assets here in the UK," he said.
"If they [estate agents] have a suspicion that there may be money laundering involved then they absolutely should be submitting a suspicious activity report. You are at risk of committing a criminal offence if you do not do that."
Cameron's proposals to clamp down on money laundering were sharply criticized by some commentators.
Tax and property experts said publishing details of legal property owners will do little to catch white-collar criminals.
Henry Pryor, a buying agent for Britain's luxury property market, said the government's promised transparency in property ownership wouldn't stop fraudsters from hiding their assets.
"If criminals can get access to these assets - and trade them overseas - it makes it very difficult for the authorities to understand exactly where the ownership really lies. That remains the problem," he told the BBC.
"There is a ridiculous presumption that criminals follow the rules," offshore tax expert Mark Davies told the broadcaster.
"If Mr Big wants to hide laundered money and he wants this to remain hidden, he will simply have someone else named as the owner of the property."
Cameron said corruption is "an enemy of progress," and called for British and global authorities to "step up and tackle it."
He announced plans to hold an anti-corruption summit in London in 2016 in a bid to fight corruption at the heart of British institutions. He also vowed to maximize the government's use of international aid to improve global governance and fight corruption abroad.
TI UK welcomed Cameron's commitments on Tuesday.
It called for greater transparency with respect to offshore ownership of UK properties, and urged the government to force foreign property owners to adhere to the same transparency standards as British firms.
TI UK's Head of Advocacy and Research Nick Maxwell said tackling financial secrecy at home and abroad is vital.
"An end to secret offshore company in ownership of UK property and in UK procurement can help shift the UK from being a safe-haven for illicit wealth to a place where dirty money is not welcome," he said.
Maxwell warned, however, the way in which this policy shift is implemented is key.
"The UK is leading by example, but many loopholes still exist for the corrupt to launder money in other markets," he said.
"Transparency should be the new norm of international business. It is also important that the UK addresses domestic corruption risks, including cleaning up politics and ensuring the UK's anti-bribery legislation is not watered down."
You can share this story on social media: