Disgraced Lord Sewel quits parliament following cocaine & hookers exposé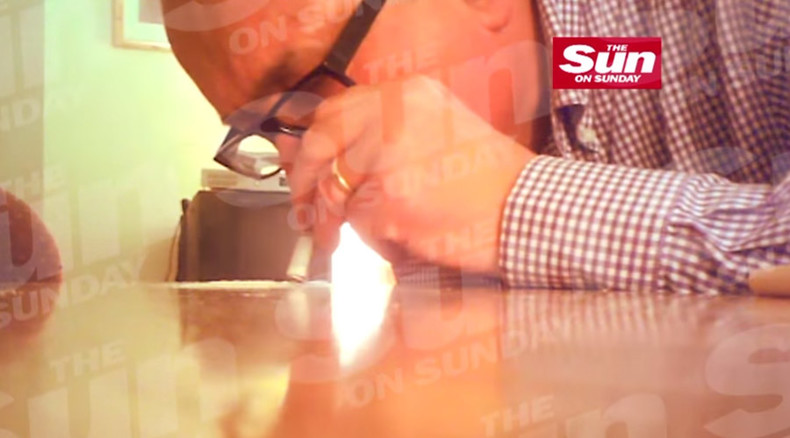 Lord Sewel has announced his resignation from the House of Lords after apologizing for the "pain and embarrassment" caused when footage of him allegedly taking cocaine with prostitutes was leaked on Sunday.
Sewel initially refused to apologize for the alleged misdemeanors, saying he would only take a leave of absence. His U-turn followed the beginning of a police investigation.
The peer said he was resigning to prevent damaging an institution which he "holds dear."
Video footage of the lord allegedly shows him snorting cocaine off a table using a five pound note, as well as sitting and discussing his financial situation with a sex worker while dressed in a bra and a leather jacket.
In a statement, Sewel said his resignation would come into effect immediately, saying his behavior would otherwise damage the reputation of the House of Lords.
"I have today written to the clerk of the parliaments terminating my membership of the House of Lords. The question of whether my behavior breached the code of conduct is important, but essentially technical.
"The bigger questions are whether my behavior is compatible with membership of the House of Lords and whether my continued membership would damage and undermine public confidence in the House of Lords. I believe the answer to both these questions means that I can best serve the house by leaving it.
"As a subordinate, second chamber the House of Lords is an effective, vital but undervalued part of our political system. I hope my decision will limit and help repair the damage I have done to an institution I hold dear. Finally, I want to apologize for the pain and embarrassment I have caused," he added.
Sewel had faced calls by the prime minister on Monday to step down, and had already been suspended by the Labour Party.
Scotland Yard confirmed it is investigating allegations made in the video.
"The Metropolitan Police Service has today, Monday, July 27, launched a criminal investigation into allegations of drug-related offences involving a member of the House of Lords," it said in a written statement.
"A warrant under Section 23 of the Misuse of Drugs Act 1971, was today granted at Westminster Magistrates' Court. The warrant was executed at 6pm at an address in central London by officers from the Special Enquiry Team of the Homicide and Major Crime Command (HMCC). No arrests have been made at this stage and enquiries are ongoing."