Holocaust denier David Irving speaks at secret neo-Nazi meeting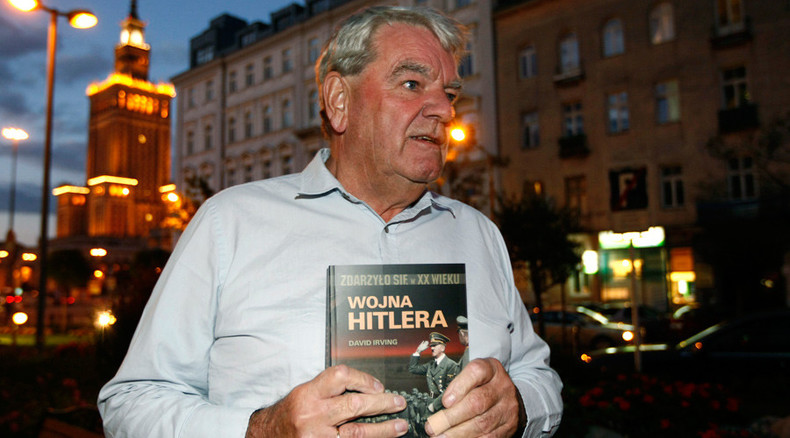 Historian and holocaust denier David Irving spoke at secret meeting of neo-Nazis and fascist sympathizers in London on Saturday, it has emerged.
The discredited academic gave a talk at the Rembrandt Hotel in Kensington, where he was billed as the world's "MOST respected historian" and an "expert on World War II."

Irving gave a speech titled "Saturation Bombing in World War II – who is to blame?" to an audience of a 120 right-wing sympathizers, including women and children.

During his talk, Irving reportedly described the Royal Air Force (RAF) as "war criminals" for their bombing campaign over Germany and Nazi-occupied Europe.

Former Spandau prison worker Abdallah Melaouhi, who cared for Hitler's one-time deputy Rudolf Hess during his imprisonment, was also a speaker at the event.
Melaouhi has described Hess, who hanged himself in 1987 while serving a life sentence, as "a man of great vision, intelligence and compassion."

According to the Daily Mail, an invitation for the event asked those wishing to attend to call a mobile number at 8am on Saturday.
Laughable description of David Irving in flyer for speech to far right audience "the world's MOST respected historian, TOP expert on WW II."

— Jon Benjamin (@JonBenja) July 27, 2015
Attendees were then told to meet at South Kensington Tube station at 11am, where retired teacher and known fascist Michael Woodbridge led them to the four-star Rembrandt Hotel.

The talk was held in the St James function room, which had been booked under a different name.
Attendees included members of the British National Party (BNP), the far-right Greek Golden Dawn and Polish nationalist skinheads wearing camouflage.
Irving is notorious for denying the existence of Nazi gas chambers and the genocide of millions of people during World War II.

In 1996, the historian sued Professor Deborah Lipstadt and Penguin books for defamation after being called a holocaust denier. Irving lost the lawsuit, which reportedly cost him £2 million in legal fees.

Irving has been barred from entering several countries due to his holocaust denial, including Austria, Germany, Italy and Canada.
Saturday's secret meeting comes three months after a meeting of far-right figures from around the world known as the London Forum.

Gerry Gable of anti-fascist magazine Searchlight said: "This conference is another piece of evidence of a growing series of closed international far-right extremist conferences.

"The core movers range from elderly Holocaust deniers to well-educated men and women who are being trained in ideologies of hate and being made ready for potential acts of terrorism."