Crystal meth cocktail, anyone? Breaking Bad pop-up bar opens in London (VIDEO)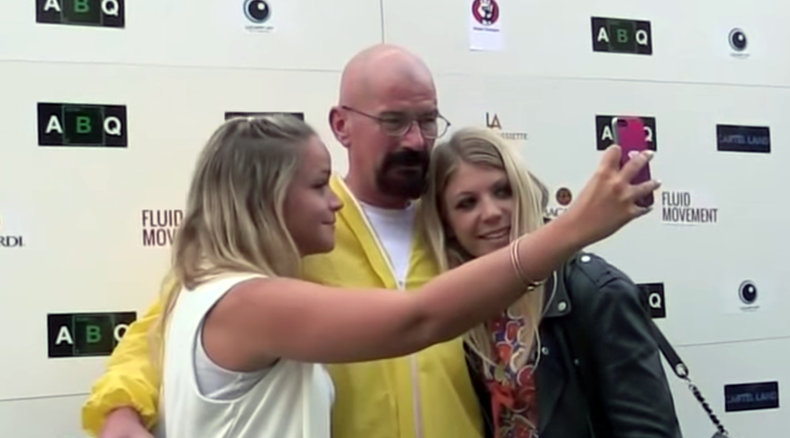 Breaking Bad fans who have gone cold turkey since the television series ended in 2013 will be treated to a long overdue hit this summer when a pop-up bar themed on the show will open in East London.
Visitors to the bar in Hackney Wick, London, will be greeted with a near identical replica of Walter White's RV which doubled as a crystal meth lab in the show.

Inside, chemistry equipment including beakers, petri dishes and glass flasks are lined up alongside trays of bright blue crystals.
The bar, named ABQ, is open for three months from Friday July 24 and has limited availability due to the size of the RV.

Its name is taken from the acronym for Albuquerque, New Mexico, where the television series was set and filmed.

Up to 22 people can be in the lab at a time and, upon entering, customers will be invited to make their own cocktails resembling the blue meth produced by the drug dealer characters in the show.
A Walter White lookalike will instruct guests in how to make the cocktails which use ice sprayed with a kind of blue food dye to look like his signature crystal meth recipe.

According to the ABQ website, the months of July and August have already sold out and tickets are limited for August and September.

A two hour cocktail making session at ABQ costs £30 ($47) and gives guests the chance to make two drinks inspired by the show.

Breaking Bad is a critically acclaimed crime drama about a terminally ill chemistry teacher who is forced to make and sell drugs in order to support his family and pay for his medical treatment.

First aired on AMC network in 2008, the show ran for five seasons and has received dozens of awards by the time it ended in September 2013.

The pop-up bar is the brainchild of start-up group LOCAPPY, a company which opened a controversial owl bar in Soho in March.

Annie the Owl offered customers the opportunity to drink in a room packed with living owls, but was changed into a smoothie bar after animal rights campaigners criticized the concept.

PETA Director Mimi Bekhechi told Huffington Post UK in February: "It would be hard to think of a more frightening experience for owls, who have especially acute hearing and vision, than to be surrounded by intoxicated, caterwauling humans at a bar."