'At least he's a socialist': Nigel Farage backs Jeremy Corbyn for Labour leadership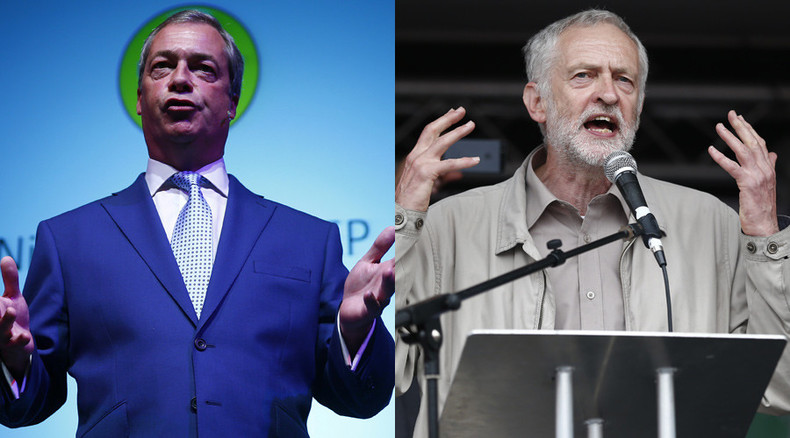 UKIP leader Nigel Farage has endorsed veteran left-winger Jeremy Corbyn for the Labour Party leadership, telling a radio audience he represented what the party is 'supposed to be.'
The right-wing MEP put aside political differences on Thursday when he said he would like to see Corbyn win the Labour leadership election.
Farage told LBC radio DJ Iain Dale he wanted Corbyn to become Labour leader because "at least Jeremy Corbyn's a socialist – and that's what the party's supposed to be."
The UKIP leader was a surprise caller on a leadership debate having identified himself as simply "Nigel from Kent."
Jeremy Corbyn is backed by some great people, but he's also backed by Farage and 'Tories for Corbyn' which sets off some alarm bells

— Emlyn Pratt (@EmlynJP) July 23, 2015
Farage asked the Labour leadership candidates if they would consider voting no in a EU referendum.
When Liz Kendall, Andy Burnham and Yvette Cooper all said they would not, Corbyn replied: "If Europe becomes a totally brutal organization which treats member states in the way it has treated Greece," then it would lose the support of many people.
Farage's flattery appears to have been lost on Corbyn, who said UKIP were the party of "despair and cynicism."
"Nothing Nigel Farage has ever said or [done] will build a school, build a hospital, get a new teacher or anything else," he added.
The UKIP leader's endorsement comes as the former Labour Deputy Prime Minister John Prescott defended Corbyn against an "unacceptable" attack by Tony Blair on Wednesday.
Prescott told the former prime minister to "calm down" after Blair warned that people who said their heart was with Jeremy Corbyn should "get a transplant."
Commenting on Blair's remarks, Prescott said: "I found that absolutely staggering. I have a lot of respect for Tony Blair, I worked with him for a lot of years, but to use that kind of language is just abuse.
"The Labour Party is about the heart as well as the head and to suggest somebody should have a transplant if they are making decisions by the heart is totally unacceptable."
Prescott added that Labour had lost a lot of public support over the 2003 Iraq War and said Blair should reflect on that.
He urged the Labour Party to "stop the abuse" and "get back to policy."
Two of Jeremy Corbyn's Labour leadership opponents have said they would not serve in his Shadow Cabinet if he is elected.
Both Kendall, who favors a Blairite approach to running the struggling party, and fellow leadership rival Cooper told LBC Radio on Thursday they would not take on the role of a "party of protest."
They said Corbyn's policies would see Labour out of office for a generation.

Former bookies' favorite Andy Burnham, however, said he would support the left-wing candidate should he become leader of the party.