Corbyn strikes back: 'Tony Blair's big problem is the long-overdue Iraq War report'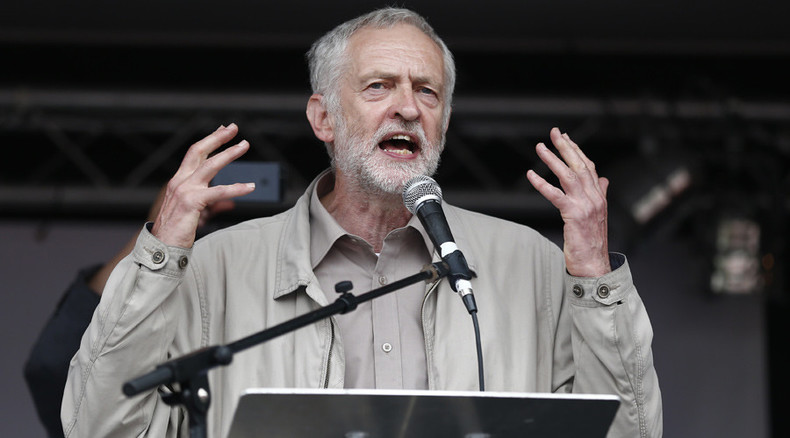 Labour leadership candidate Jeremy Corbyn has fired back at criticism from former-leader Tony Blair. Corbyn said the ex-prime minister's "big problem" is that the long-overdue Iraq war inquiry has not been published yet.
The veteran left-wing MP dismissed Blair's assertion that it would be impossible to win an election on a left-wing platform as "silly remarks."
Speaking at a closed seminar with economists and trade unionists on Wednesday, Corbyn promised to raise taxes for the rich, clampdown on corporate tax avoidance and invest in the nation's infrastructure if he is elected prime minister.
The Labour MP for Islington North said the deficit should not be cut on the backs of the poor, but by the wealthiest in society.
Responding to criticism from Tony Blair, who suggested Corbyn was the Tories' favored candidate, the leadership hopeful said: "I think Tony Blair's big problem is we're still awaiting the Chilcot Report to come out."
"I would have thought he could have managed something more serious than those kind of silly remarks."
Ex-PM Blair urged the Labour Party to reject Corbyn's "traditional leftist position" in a speech on Wednesday, warning the veteran MP would take the party back to the 1980s.
The long-delayed Chilcot Inquiry into the controversial Iraq war began in July 2009, but its conclusions remain unpublished as the investigation is mired in a legal process known as Maxwellization.
The report is expected to be highly critical of senior Labour ministers in the run up to the war.
Senior Labour figures have expressed shock as Corbyn emerged as the surprise frontrunner in the Labour leadership contest after a YouGov poll put him 17 points ahead of his nearest rival Andy Burnham.
Former Labour Foreign Secretary Margaret Beckett described herself as a "moron" for having nominated Corbyn, in order to widen the debate, in an interview with BBC Radio 4 on Wednesday.
However Corbyn's supporters have defended the beleaguered leadership candidate's left-wing policies.
Jeremy Corbyn's left wing politics are reactionary, says NHS-privatising, bank-deregulating, tuition-fee-introducing war criminal Tony Blair

— Pete Sinclair (@pete_sinclair) July 22, 2015
In his first major economic speech, Corbyn said that society was made richer by the combined efforts of ordinary workers, state investment and entrepreneurs.
He outlined his plans to raise taxes for the rich, clampdown on corporate tax reliefs and increate state investment in housing, energy, transport and digital projects.
The leadership hopeful pointed out that as much as £120bn in revenue was not being collected by the Treasury due to corporate tax avoidance, tax evasion and uncollected tax debts.
Corbyn's policies set him apart from his rivals in the leadership race as the only candidate to rule out further spending cuts if he is elected prime minister.
"Rather than remove spending power from the economy and damage growth and future prosperity, Britain needs a publicly led expansion and reconstruction of the economy," said Corbyn.
"You don't close the deficit fairly or sustainably through cuts. You close it through growing a balanced and sustainable economy that works for all."
The left-wing MP offered an alternative vision to austerity in which both wages and economic growth increase.
"Growth and higher wages must be key to bringing down the deficit. Increased tax receipts and lower benefit demand are a better way forward than shutting local libraries and attacking the working poor," he said.
"If there are tough choices, we will always protect public services and support for the most vulnerable. Instead we will ask those who have been fortunate to contribute a little more."
"Austerity is about political choices, not economic necessities. There is money available," he added.