'Brutal execution': Jean Charles de Menezes vigil held 10yrs after counter-terror police shooting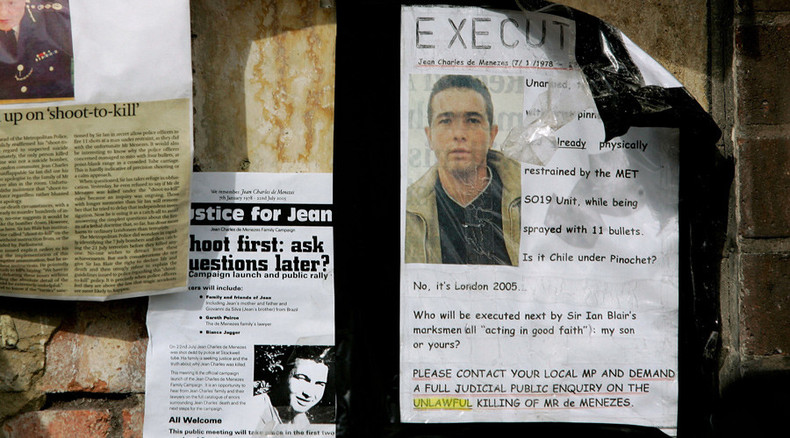 Chased by armed police onto a London Underground train, pinned into a seat and shot nine times in the head, a vigil is being held on Wednesday for electrician Jean Charles de Menezes who was gunned down 10 years ago.
Brazilian national de Menezes was, it is claimed, a victim of mistaken identity when he was killed at Stockwell Tube station on July 22, 2005.
The killing came two weeks after terrorists detonated a series of suicide bombs on London transport networks, killing 52 people and injuring hundreds.
Newham Monitoring Project, a grass-roots civil rights group in East London, is holding an unofficial vigil to mark the 27-year-old's death.
In a post on the group's Facebook page, organizers said: "Our hearts go out to the survivors and all the relatives of those who died because of the 7/7 bombings in London.
"There will be no official recognition or ceremony, however, marking the brutal execution of Jean Charles de Menezes just two weeks later, on 22nd July 2005, by Metropolitan Police firearms officers at Stockwell underground station.
"We believe the 10th anniversary of Jean's death cannot and must not be forgotten," they said.
Flowers were laid outside Stockwell Tube at 10:07 BST to mark the moment de Menezes was killed.
His relatives recently took their case, which they have long argued was not satisfactorily concluded, to the Upper Chambers of the European Court of Human Rights in Strasbourg.
The court will review the decision by the Crown Prosecution Service (CPS) not to charge any of the officers involved in the killing.
In December 2008, an inquest jury rejected the official version of the shooting, recording an open verdict. No charges were brought against the officers involved.
An application to judicially review the decision not to charge the officers has already been rejected by UK courts.
In June, ahead of the Strasbourg hearing, solicitor Harriet Wistrich of the law firm Birnberg Peirce, representing the de Menezes family, told the Guardian: "The officers who shot Jean Charles have a defense if they had an honest belief that they were under imminent threat, even if they were mistaken and their mistake was wholly unreasonable."
De Menezes' family maintains the use of lethal force was unnecessary, because of lack of evidence the victim presented a threat.