Suspect charged with planning terror attack on US military personnel in Britain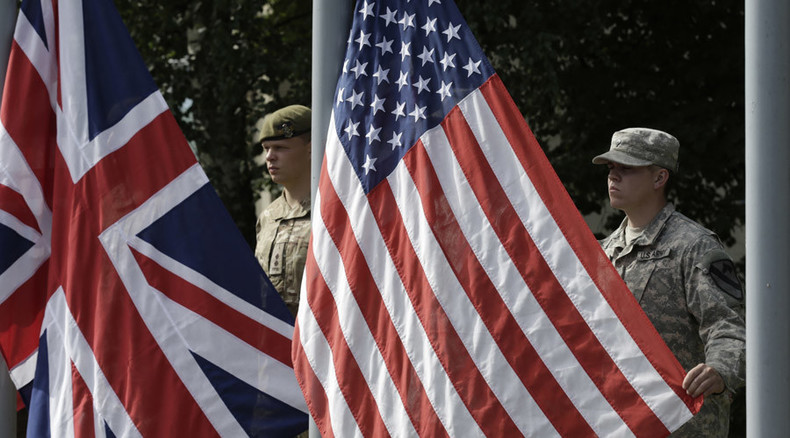 Junead Ahmed Khan, 24, has been charged with planning an attack on US military personnel in the UK between May 10 and July 14, Westminster Magistrates court heard on Tuesday.
He has also been charged with plotting to travel to Syria alongside his uncle, 22-year-old Shazib Ahmed Khan, to join Islamic State (formerly ISIS/ISIL) – a terror organization that is banned in the UK.
It is believed the target of the alleged terrorist plot may have been RAF Lakenheath in Suffolk, which hosts more than 5,000 US Air Force personnel, as well as 2,000 British and American civilian staff.
The two men were remanded in custody by chief magistrate Howard Riddle and will appear at Old Baily on August 10.
Both men appeared in court wearing prison-issue grey sweatshirts and spoke only to confirm their names.
The pair was among three men arrested in Luton and Letchworth last week, one of them at gunpoint. They have been charged under the Terrorism Act of 2006.
The Syria related charges cover the period from August last year to May this year.
Crown Prosecution Service Deputy Head of Counter Terrorism Deborah Walsh said: "Following an investigation by the Metropolitan Police Service's SO15, we have concluded that there is sufficient evidence and it is in the public interest to charge Junead Khan and Shazib Khan with the intention of committing acts of terrorism."
"It is alleged that Junead Khan and Shazib Khan had been planning on travelling to Syria to join the proscribed organization Islamic State in Levant (ISIL). It is further alleged that Junead Khan was planning a terrorist attack on US military personnel in the UK and he has been charged with an additional terrorism offence to reflect this.
"The decision to prosecute was taken in accordance with the Code for Crown Prosecutors."
The charges come days after a 24-year-old lone gunman, Muhammed Youssef Abdulazeez, opened fire in a US military facility in Chattanooga, Tennessee, killing four marines and a Navy sailor.
Authorities are investigating whether Abdulazeez had links with terrorist organizations.
According to a friend of Abdulazeez, the shooter disapproved of the Islamic State and even described it as "a stupid group [that was] completely against Islam."
Speaking to CNN, friend James Petty added that Abdulazees had taught him how to shoot an AR-15 rifle and that the two used to practice in the woods.