Cyber-jihadist jailed in US for aiding terrorists returned to UK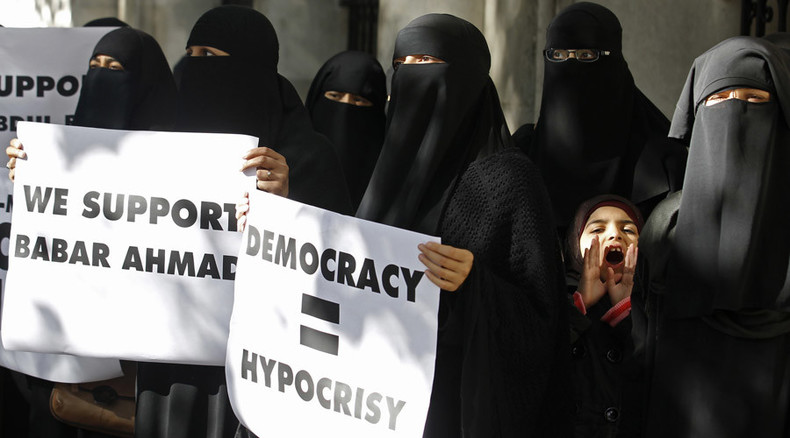 A cyber-jihadist from London who was extradited to America in July 2014 and jailed for offering material support to the Taliban has returned to Britain.
After pleading guilty to aiding the Taliban and Chechen mujahideen by using websites to generate cash, recruit fighters and provide equipment, Babar Ahmad was handed a 12-and-a-half-year sentence in the US.
The 41-year-old's quiet return to Britain last week was welcomed by his family, as they celebrated the Islamic festival of Eid in south London.
Ahmad's sentence factored in eight years he spent imprisoned in Britain without trial, and an additional two years he spent in solitary confinement in ultra-secure US prisons.
US prosecutors had argued for a lengthy prison term for Ahmad on the grounds he could reoffend. However, this suggestion was rejected by US judge Janet Hall who found that he is a good man and unlikely to commit a similar offense in future.
Ahmad was arrested without charge in the UK in 2004, and spent a further eight years battling extradition. He was finally extradited to America in 2013.
Originally a computer engineer from south London, he had admitted to aiding terrorist activities.
Following his return to Britain, Intelligence sources say Ahmad had "no conditions attached" to his release.
In a formal statement, Ahmad said his time in custody had left a deep impression.
"Eleven years of solitary confinement and isolation in 10 different prisons has been an experience too profound to sum up in a few words here and now," he said.
Ahmad went on to describe the extradition process, which landed him in on US soil.
"In October 2012, I was blindfolded, shackled and forcibly stripped naked when I was extradited to the US," he said.
"Last week, US and UK government officials treated me with courtesy and respect during my journey home. Today, I have absolutely nothing. Yet I am rich. All praise be to God."
Ahmad pledged to share reflections on his experiences to help educate others.
"I recognize that the world has moved on since 2004, yet in some ways sadly it has failed to progress," he said.
Ahmad's family said the past 11 years had been "indescribably difficult."
"We, the family of Babar Ahmad, are delighted to announce that by the grace of God Babar has returned home to us after 11 years in prison," they said.
"Our lives will be enriched by his return."