Tory move to peddle further arms to Israel condemned by campaigners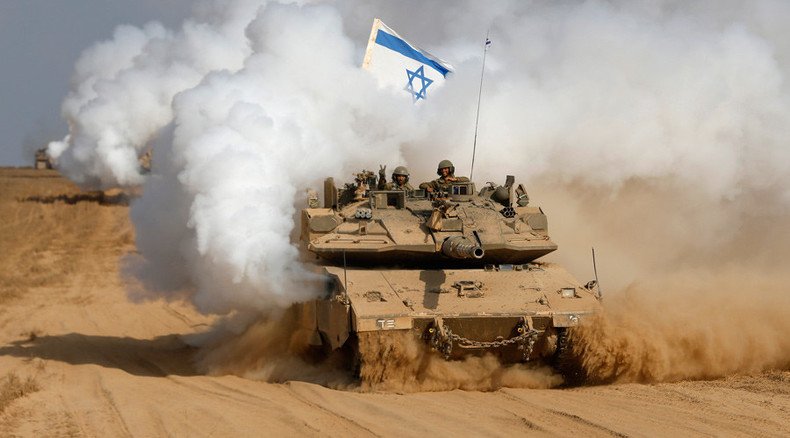 Human rights activists have condemned the British government's decision to lift restrictions on weapons sales to Israel put in place during last summer's Gaza conflict.
Campaign Against the Arms Trade (CAAT) said on Friday the move sends the message that Israel can continue using British arms against Palestinians and the UK government will turn a blind eye.
The Department for Business, Innovation and Skills (BIS) defended the move, however, saying a year-long review of arms licenses to Israel had left it satisfied the contracts meet the UK's export criteria.
The announcement comes after a report published in early July revealed the British government approved £4mn worth of arms to Israel in the immediate months following the start of Israel's Operation Protective Edge.
Andrew Smith of CAAT expressed disbelief at the government's decision to lift restrictions on arms exports to Israel.
"This report is extremely weak. It sends the message that Israel can continue using UK arms against the people of Gaza and the government will do nothing to stop it," he told RT.
"The bombardment last summer killed over 2000 people and created a humanitarian catastrophe. If that wasn't enough to change the government's mind then what would it take?"
Business Secretary Sajid Javid said on Thursday his department was satisfied that licenses for military material, including components for radar and tanks, now meet the UK's export criteria. Under UK regulations, the sale of arms that can be used to commit human rights violations are banned.
"Following the review the Government has concluded that in the present context where the facts are clearer these criteria may now be applied, without any additional measures," BIS said in a statement.
A review of export licenses for arms sales to Israel was set in motion in August 2014, a month after Israel's offensive in Gaza began.
Then-Business Secretary Vince Cable said at the time that the government was unable to clarify if the arms licenses has breached UK regulations.
Cameron starts Summer recess by using UK pilots in Syria and lifting Israel arms restrictions. Sneakier than a brown trout faking an orgasm.

— Trevor Seemann (@Trevorius) July 17, 2015
"We welcome the current ceasefire in Gaza and hope that it will lead to a peaceful resolution. However, the UK government has not been able to clarify if the export licenses criteria are being met," he said.
"In light of that uncertainty we have taken the decision to suspend these existing export licenses in the event of a resumption of significant hostilities."
"No new licenses of military equipment have been issued for use by the Israeli Defence Forces during the review period, and as a precautionary measure this approach will continue until hostilities cease," he added.
The government's decision comes weeks after The Independent revealed Whitehall approved £4mn worth of arms sales to Israel in the immediate months following last summer's grueling Gaza war.
Among the arms sales Britain presided over, were special components for military helicopters and a range of hi-tech parts for guidance and navigation systems used by the Israeli Defense Force (IDF).
In June, a United Nations report accused both Israel and Palestinian armed groups of possible war crimes during the 2014 Gaza conflict.
Conducted by an independent Commission appointed by the UN Human Rights Council, the inquiry found that "serious violations of international humanitarian law" had occurred during the conflict that "may amount to war crimes."
You can share this story on social media: