​43 British women & girls fled to Syria since 2014 – Scotland Yard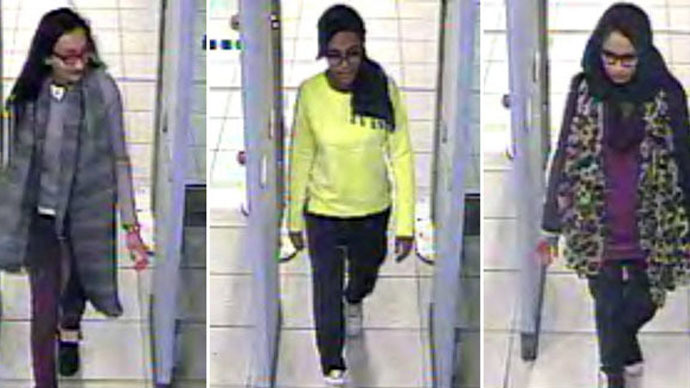 Police are urging parents to warn their daughters of the dangers of travelling to Syria as new figures reveal 43 British women and girls travelled to the country in the past 12 months.
The statement released by the Metropolitan Police on Tuesday says 43 women and girls were reported missing by their families to forces around the country.
Those feared to have travelled to Syria put themselves in "serious danger, leaving their families devastated," the force said.
43 women & girls have travelled to #Syria in the past year - help prevent any more tragedies http://t.co/xQ3GOdLjyLpic.twitter.com/bIsv2wySS0

— Metropolitan Police (@metpoliceuk) July 14, 2015
Terror group Islamic State (formerly ISIS/ISIL) has seized a chunk of land stretching from northern Syria to central Iraq.
Their power base is in Raqqa, eastern Syria, where they are now in control of more than half of the country's oil assets and oil fields, according to energy expert Luay al-Khateed.
In the past year, vulnerable British youths have been lured into the hands of Islamic State in Syria with little knowledge of what to expect. Many have reportedly grown weary of their surroundings.
Scotland Yard has launched a radio advertising campaign to encourage parents to talk to their daughters about the dangers of making the journey.
The advertisements will be featured on minority ethnic radio stations around England for the next two weeks during Ramadan – a month of fasting observed by Muslims worldwide.
Deputy Assistant Commissioner and Senior National Coordinator for Counter Terrorism Policing Helen Ball warned Syria is an "extremely dangerous place."
"The reality of life there is far from the image that terrorist groups actively promote to young women here in the UK," she said.
URGENT: Luton family of 12 missing - feared to have fled to Syria, UK police say http://t.co/hfPydugOoqpic.twitter.com/ADUmCzJ0IP

— RT UK (@RTUKnews) July 1, 2015
Cases where families suffer as loved ones flee to Syria are "becoming more common," she said, adding that many of these women and girls are unlikely to have the freedom to return home.
Ball said the radio campaign's "clear message" is to urge mothers to speak to their daughters and prevent children from falling into the same trap others have.
Some women and girls believe that their life will "hold more meaning" in Syria and it may be a "misplaced sense of 'glamour' of marrying a fighter," she added.
Police letters could have triggered schoolgirls' flight to #Syria, families tell MPs http://t.co/8epzdkaQMZpic.twitter.com/1hxX0Q6EjS

— RT UK (@RTUKnews) March 10, 2015
On Sunday, 16 year-old Amira Abase who fled to Syria in February contacted The Daily Mail confirming she married 18 year-old 'Ginger Jihadi' Abdullah Elmir from Australia. The young man reportedly says he knows "brothers" that are "itching to do an attack" on Britain.
A source from the Abase family told the Daily Mail Amira was married in March. The paper refused to reveal further details of the marriage citing national security as a concern.
Ironically, Scotland Yard's radio campaign was launched just four months after the force were heavily criticized by MPs and families for failing to alert parents that their children were at high risk of fleeing Britain to join Islamic State in Syria.