​'Creative accounting': Govt combines spy, peacekeeping and defense budgets to hit NATO target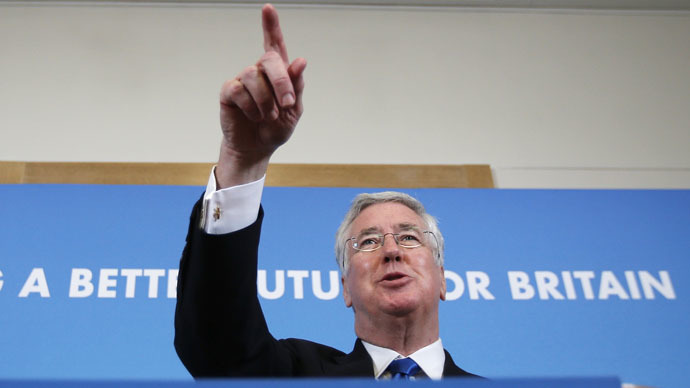 Desperate to ramp up military spending, UK Defence Secretary Michael Fallon has admitted to MPs that elements of Britain's intelligence, peacekeeping and defense budgets have been combined.
By making the budget framework "marginally" wider and stretching the meaning of defense, Fallon managed to hit NATO's recommended target of 2 percent of Gross Domestic Product (GDP).
The policy shift means that the state's £1 billion (US$1.56 billion) Conflict Pool fund for peacekeeping and part of its £1.5 billion pot for intelligence activities now comes under the heading of defense.
Minister denies cooking the books on defence spending by including intelligence budget in MoD numbers

— Douglas Carswell MP (@DouglasCarswell) July 13, 2015
Challenged by Douglas Carswell MP during parliamentary questions on Monday, Fallon said, "no books are going to be cooked" in order to hit the 2 percent target.
"Anything that is included has to meet the NATO guidelines and where there is expenditure on defense intelligence, which comes out of the defense budget, that's right they should be included in our defense totals," he added.
READ MORE: Spies + defense: Cameron proposes budget merge to meet NATO goal
However, Julian Lewis, new Tory chairman of the influential Defense Select Committee, told the Daily Mail newspaper, "My concern throughout this process is that creative accounting should be avoided and that we should calculate the percentage of GDP spent on defense in the same way in the future as it has been in the past."
Labour MP's also added their voices, with Shadow Minister for the Armed Forces Kevan Jones saying, "It is becoming clear that the Government have only crossed the line by including the Single Intelligence Account as Defense spending, and that Ministers haven't made the MoD a land of milk and honey overnight."
In March, with the defense budget a topic of heated debate ahead of May's general election, David Cameron indicated the budgets for security services MI5, MI6 and GCHQ could be merged.
The PM is under pressure from hawkish British generals and the United States government to continue spending 2 percent of UK GDP.
Speaking to LBC Radio in March, Cameron hit out at senior military figures who have expressed concern over Britain achieving this target, saying they are trying to promote their memoirs.