Police Taser safety probed after man dies during arrest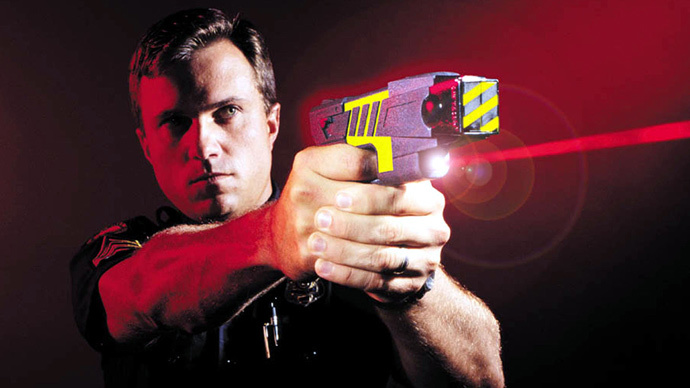 The National Police Chief's Council (NPCC) has ordered an investigation into the safety of Tasers after an inquest ruled the police issued weapon had contributed to the death of Manchester factory worker Jordan Lee Begley.
A uniformed officer shot Begley, 23, with a Taser after being called to his home in east Manchester on July 10, 2013.
Begley had been accused of theft. His mother, Dorothy, called the police after he threatened to confront his accusers with a knife.
Five officers arrived at the scene to restrain Begley. After a struggle, the officers discharged a 500,000 volt Taser.
The electroshock weapon that fires high voltage electricity is designed to temporarily disable but not to kill. However, Begley died two hours later in hospital.
Our #Taser lead has responded to @ukhomeoffice stats and requested independent review of safety advice. Statement: http://t.co/2HEZORtaBx

— NPCC (@PoliceChiefs) July 9, 2015

This week, an inquest ruled the use of the Taser was "unreasonable" and that police actions contributed to his death.
Begley's mother criticized the Independent Police Complaints Commission (IPCC) decision to clear the officers involved.
Home sec has ordered inquiry into the safety of the continued use of Tasers by the police in England and Wales in wake of Manchester inquest

— Alan Travis (@alantravis40) July 9, 2015
Number of police armed operations also fell in last 12 months to 14,864- 590 fewer than previous year - actually fired guns on two occasions

— Alan Travis (@alantravis40) July 9, 2015
NPCC Deputy Assistant Commissioner Neil Basu told the Manchester Evening News he has sympathy for Begley's mother, family and friends.
"Police officers do a difficult and dangerous job," he said, adding no officer "sets to take part in a call or operation that results in someone's death."
"On some occasions officers will use force and of course there will always be a risk when force is used – whether the tool chosen is an open hand, baton or indeed a Taser."
He said he will he ask the surgeon general and the Home Office to refer the medical evidence in this case to an independent body to "determine if it is necessary to amend their advice of safety on this weapon."

According to Home Office figures, Tasers were used more than 5,100 times in England and Wales in the first six months of 2014.
In a survey of 45 police forces, a Guardian investigation found more than half of the Tasers discharged in 2012 had been directed at the chest.
Dr Douglas Zipes, a US cardiologist and emeritus professor at Indiana University, told the paper UK police should "avoid the chest at all costs" as shots to that part of the body "can produce cardiac arrest."
Greater Manchester Police Chief Constable Sir Peter Fahy defended police use of Tasers. He told ITV there's "always more we can learn. All my officers know that we act with restraint and that for any officer, their best weapon is their mouth."
You can share this story on social media: