Londoners #WalkTogether on 10yr anniversary of 7/7 bombings
Published time: 7 Jul, 2015 12:02
Edited time: 7 Jul, 2015 13:53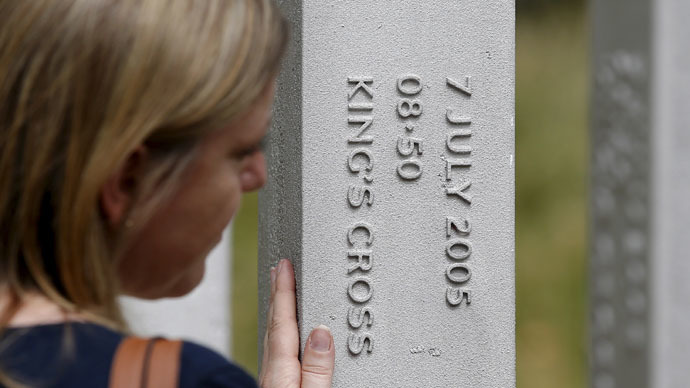 Ten years after the London 7/7 bombings killed 52 people in the British capital, residents of the city are being asked to 'Walk Together' in remembrance of the victims.
Commuters are encouraged to exit public transport a stop early and walk to their destination, to remember those who lost their lives when three Tube stations and a bus were bombed on July 7, 2005.
On the 10th anniversary of the 7/7 atrocities I got off a few bus stops early to #WalkTogether & remember pic.twitter.com/uK4yp5LIQt

— Raymond Simonson (@FatSideburns) July 7, 2015
The 'Walk Together' initiative is the brainchild of the think-tank British Future, aimed at remembering the hours following the attacks, when thousands walked through London's streets after public transport services shut down.
Events are also taking place throughout the capital city on Tuesday.
Still have the shoes I was wearing to walk 5 miles on 7/7. The blisters have gone, not the memories. #walktogetherpic.twitter.com/Qg70sZuwte

— Andrew Dysch (@fing1992) July 7, 2015
Prince William is expected to attend a service in Hyde Park, with police, ambulance and fire crews laying wreaths at the site.
St. Paul's Cathedral hosted a service attended by the families of those who died, as well as many who were injured. A minute's silence was marked by a flood of petals falling from the dome, and four candles lit to remember the four bombing sites.
Today I walked to King's Cross to be at the 7/7 memorial plaque at 8.50am to remember #walktogether#RIPpic.twitter.com/CklxIViNTT

— Walks in London (@GWinLondon) July 7, 2015
London Underground trains came to a halt at 11:30am local time, allowing passengers a minute of silence. The minute of silence was also observed at Wimbledon.
I have my walking shoes on ready for #walktogetherpic.twitter.com/U1DxtzTWjz

— Lauren O'Connor (@laurenoconnorPR) July 7, 2015
A short service was also held in Tavistock Square, where 110 people were injured.
The events of 7/7 remain the single worst terror attacks on British soil. Fifty-two people were killed and more than 700 injured.
Ten years ago, 52 people lost their lives in London. Don't walk alone #walktogether on 7/7 to remember them! pic.twitter.com/vJru2d6NOI

— Richard Gough (@shotbyrichie) July 7, 2015
The deadly bombings were carried out by four British men – Mohammad Siqique Khan, 30; Shehzad Tanweer, 22; Hasib Hussain, 18, and Germaine Lindsay, 19, all of whom had links to Al-Qaeda in Pakistan and Afghanistan.
LISTEN MORE: