​England male football team branded 'sexist morons' after 'patronizing' tweet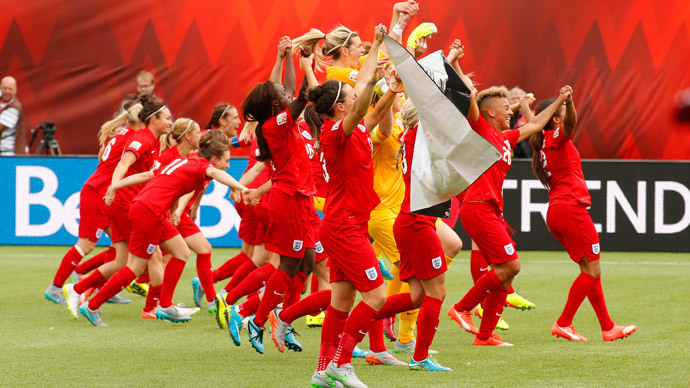 Social media staff for England's male football team have been forced to remove an "appalling" and "sexist" tweet about the women's national team after it attracted an outpouring of anger on social media.
The tweet, which was intended to celebrate the women's victory over Germany securing them third place in the World Cup, said the players would now return to being "mothers, partners and daughters" after the match.
It added the players would be revered as "heroes."
LOL, @england deleted its appalling, sexist tweet. pic.twitter.com/HmwpssARDY

— Ishaan Tharoor (@ishaantharoor) July 6, 2015
Following a barrage of criticism, the account admin removed the tweet.
One Twitter user said the post shows the Football Association (FA) continues to "ignore and patronize" the women's team.
Another said it was "gross" and called the FA "sexist morons."
JESUS CHRIST I SAW THAT ENGLAND WOMEN'S FOOTBALL TWEET. GROSS. they deleted it lmao, sexist morons

— - ̗̀new ̖́-Shenmue 3 (@JoshSuperlink) July 6, 2015
How the Number 3 in the WORLD England women's football team has been treated: Ignore and patronise. Ignore and denigrate. Ignore and Ignore.

— CJ Daugherty (@CJ_Daugherty) July 6, 2015
The England women's team landed at Heathrow on Monday after finishing third in the World Cup following a 1-0 win over Germany.
The competition was broadcast live in the UK, where it attracted a strong following.
@dnwlls people treat women's football like it's irrelevant but tbh they'll be the ones to win the world cup in our life time

— claire (@caIedonia) July 6, 2015
"Hopefully we can keep going now and get the crowds out, keep the interest going," midfielder Jill Scott told the BBC on her return to the UK.
@scottgoodacre It's just so patronising. It shows what we already know - that the FA thinks women's football is not a 'real' sport.

— Robert Perry (Pez) (@pez_sez) July 6, 2015
The England women's football team get 3 weeks of attention then the men are back and nobody cares about you any more. #Lionesses

— George Lancaster (@georgelanc25) July 6, 2015
The team will now begin training for the Euro 2017 qualifiers in September, where they are in a group with Belgium, Serbia, Bosnia-Hercegovina and Estonia.
You can share this story on social media: