​Britain approved £4mn Israel arms sales in the months after Gaza war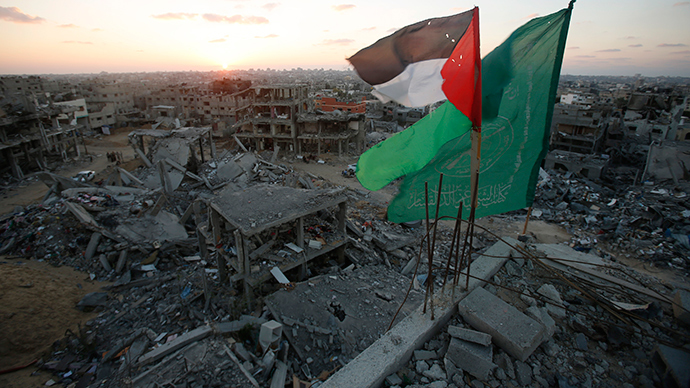 The UK government approved £4 million worth of arms sales to Israel in the immediate months following the Israeli government's military bombardment of Gaza last summer, new research reveals.
Detailed analysis published Thursday indicates that the related arms licenses cover military hardware likely to be deployed if violence in the besieged coastal strip resumes.
Among the arms sales Britain presided over were special components for military helicopters and a range of hi-tech parts for guidance and navigation systems used by the Israeli Defense Force (IDF).
Fresh arms deals worth £4m approved by Britain within weeks after 2014 Israeli attack on Gaza #StopArmingIsrael#BDShttp://t.co/KsZtPAJwnM

— War on Want (@WarOnWant) July 2, 2015
The former Conservative-Liberal Democrat coalition government also approved arms licenses for a slew of third-party states that sell weapons to Israel. These particular licenses covered the sale of components for military communications equipment, helicopters used in combat and ground-to-ground missiles.
The controversial revelations formed part of a report authored by David Wearing, a researcher at the School of African and Oriental Studies (SOAS). A member of Campaign Against the Arms Trade's (CAAT) steering committee, Wearing's work focuses on domestic and international politics.
The research, "Arming Apartheid: UK Complicity in Israel's Crimes Against the Palestinian People," analyses how Britain's arming of Israel renders it complicit in grievous human rights violations.
Arming Apartheid, our new report with @PSCupdates@WarOnWant is out today https://t.co/wBHBzmJhud#StopArmingIsraelpic.twitter.com/2AMXFOShl0

— CAAT (@CAATuk) July 2, 2015
CAAT's Andrew Smith said the revelations published in the report showed it was "business as usual" with Israel for the UK government.
"More than 2,000 people died in Israel's bombardment of Gaza, and yet in the months immediately following the conflict it was business as usual for the UK government and the arms companies they support," he said.
Smith said that Britain continues to sell arms to Israel, despite the Israeli administration's continued violation of international law.
"The continuation of arms sales represents a form of political as well as material support from the UK to Israel despite the construction of the 'apartheid wall' in the Occupied Palestinian Territories, the expansion of illegal Israeli settlements there and the ongoing blockade of Gaza," he said.
Palestine Solidarity Campaign director Sarah Colborne said the British state is arming an "apartheid" regime. She argued Palestinians will not be freed from Israeli occupation, discrimination, and bloodshed until sanctions are imposed on Israel.
Ryvka Barnard, a senior campaigner on militarism and security at War on Want, said the Arming Apartheid study highlights Britain's complicity in "Israel's oppression of the Palestinian people."
She argued that the global campaign for boycott, divestment and sanctions (BDS) on Israel has become more vital than ever.
"Only a full two-way arms embargo can ensure the UK will no longer be complicit in Israeli state crimes and abuses," he said.
Join the call for an immediate two-way arms embargo on the arms trade with Israel #StopArmingIsraelhttp://t.co/dXM5KOsxdx

— PSC (@PSCupdates) July 2, 2015
Report author Wearing says ministers' suggestion that British controls on arms exports are tightly controlled "do not stand up to scrutiny."
"Any real restriction comes from the embarrassment of bad publicity, and then only in the wake of a conflict, too late for the Palestinians affected," he added.
Britain has a history of unethical arms sales to Israel.
A ministerial statement issued in April 2009 by the then-Labour Foreign Secretary David Miliband confirmed that Israeli military wares used in the 2008-9 Gaza conflict "almost certainly" contained UK-supplied components.
The document was sent to CAAT after it launched a legal challenge against then-Secretary of State for Business, Innovations and Skills Vince Cable in 2014.
Last summer's Israel-Palestine conflict culminated in the killing of over 2,000 Palestinians. Israel, by contrast, suffered the deaths of 64 soldiers and three civilians during the conflict.
You can share this story on social media: