​Cuadrilla fracking bid rejected by UK council in major setback for shale industry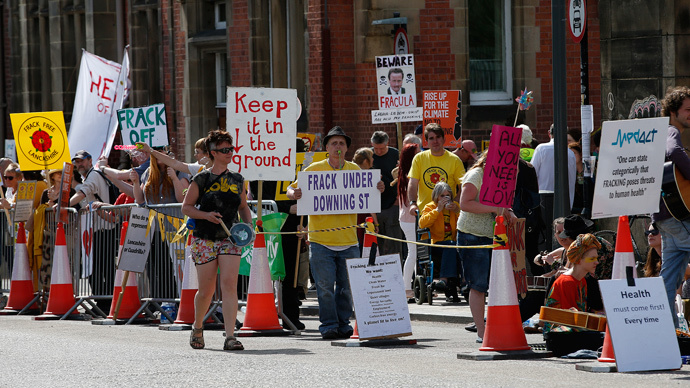 Lancashire County Council has rejected Cuadrilla's second fracking application in northwest England, marking a significant setback for the UK's shale gas industry.
The council rejected the request to frack at a site near Blackpool on the grounds of "unacceptable noise impact" and an adverse visual impact on the environment.
Energy firm Cuadrilla said it was disappointed by the decision and would consider appealing.
Environmental campaigners described the rejection as a turning point for fracking ventures in the UK, dubbing it the shale gas industry's "Waterloo."
A report by the county's most senior planning officer published on June 15 said test fracking should be approved at Little Plumpton and at another site located at Roseacre Wood.
Cuadrilla wanted to extract shale gas at the Little Plumpton site near Blackpool, but local councilors rejected their application by 10 votes to 4 on Monday.
Councilors rejected a similar bid to drill at Roseacre Wood last Thursday.
#Lancashire has made a great decision today in the face of a Government obsessed with #fracking: http://t.co/gHQmq7POGF

— Caroline Lucas (@CarolineLucas) June 29, 2015
County Councilor Marcus Johnstone said: "This is one of the biggest planning decisions ever put before Lancashire County Council. The development control committee has listened very carefully to many hours of evidence both for and against the proposal, and considered the report of the council's planning officers.
"The decision to refuse this application has been reached by a vote of the committee, which is composed of elected councilors, and each member of the committee has ultimately cast their vote based on the evidence they have heard and whether they think the proposal is acceptable in planning terms, and to the people they represent."
Hydraulic fracturing, commonly known as fracking, is a technology used to extract oil and gas from hard-to-reach rock and shale deposits.
The practice is widespread in the United States, where it has accounted for a sharp rise in oil and gas production in recent years. However, environmental advocates say the process causes water pollution, earthquakes and sinkholes.
Fracking was suspended in the UK in 2011 after drilling by Cuadrilla in Blackpool caused earth tremors.
READ MORE: Cuadrilla fracking application rejected by Lancashire Council
If the Lancashire application had been successful, it would have been the first fracking operation in Britain in four years.
Anti-fracking protestors, gathered outside Lancashire County Hall, erupted into cheers and applause when they heard the news.
Greenpeace Energy and Climate Campaigner Daisy Sands described the decision as "a Waterloo for the fracking industry" and a "triumph for local democracy."
She said in a statement: "Lancashire councilors deserve huge praise for standing up to the relentless pressure from the fracking lobby and their minister friends. Their decision sends a powerful signal to other councils that the fracking juggernaut can indeed be stopped.
"In the year where the world is coming together to find a solution to our fossil fuel problem, we should be trying to harness the potential of clean energy and efficiency instead of deploying risky techniques to squeeze more polluting gas from under our feet," she added.
READ MORE: Fracking to blame? Alabama earthquakes occurring near shale-gas developments
Monday's decision by Lancashire County Council follows the publication of an investigation by Greenpeace, which challenged official government predictions of coal use.
The research, published last week, found senior civil servants have bluntly expressed doubts over official projections that British coal consumption will drop to one percent of the power mix by 2025. Britain currently gets 25 percent of its energy from coal.
According to internal correspondence retrieved through Freedom of Information (FoI) requests, a senior civil servant in the Department of Energy and Climate Change said: "We won't reach the trajectory in many years."
The UK's original projection was based on the assumption the carbon price floor (CPF) – a tax placed on the use of fossil fuels for electricity generation – would rise to £78 by 2030, thus making coal uneconomical.
However, the government froze the CPF at £14 last year. In correspondence seen by Greenpeace a civil servant states: "We'll never allow CPF rates to rise [above] 18 pounds."