Neo-Nazis doorstep holocaust survivor, deliver 'Jews go home' message on Star of David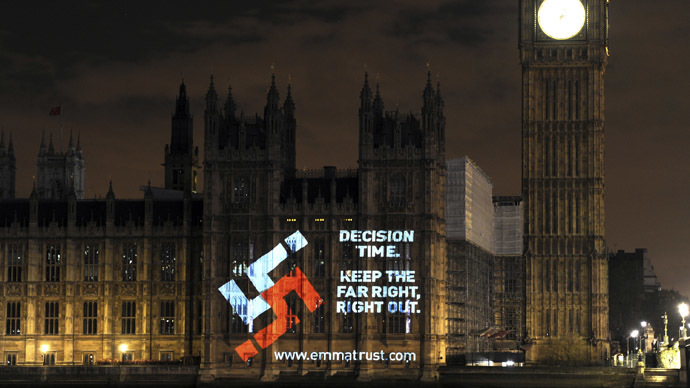 Neo-Nazis have been distributing anti-Jewish propaganda ahead of an anti-Semitic rally in North London, according to an elderly person living there.
The resident of Golders Green, a Jewish area where the rally is scheduled to take place, said a group of far-right protesters had called at his house and informed him that London would be "Jew free."
READ MORE: Neo-Nazis threaten to burn Jewish Talmud, destroy Israeli flag at London march
The 88-year-old holocaust survivor, who asked to remain anonymous, told the Jewish Chronicle that the men had performed a Nazi salute in front of him and handed him a blue Magen David (the Jewish star) with the message "Jews go home" on it.
He also reported the men asked him if he was a supporter of Joshua Bonehill-Paine, the far-right organizer of the "anti-Jewification" rally.
"As a survivor of the Holocaust and having lived in Britain for most of my life, I am reminded of scenes I saw as a child while living in Germany during the rise of Adolf Hitler," he told the Jewish Chronicle.
READ MORE: Neo-Nazis vandalize Birmingham Jewish monument, hang swastika flag
Those attending the rally revealed they plan to destroy Israeli flags and burn Jewish religious texts during the march.
Earlier in the month, Bonehill-Paine called on activists to bring their own Israeli flags so they could "dismember them by hand."
He also said a private ceremony would be held where copies of the Talmud, a Jewish holy book, would be burned.
Bonehill-Paine, 22, said Israeli flags would be destroyed in solidarity with those "oppressed" by the "illegal" state.
In order to avoid prosecution, the group won't burn the flags, but instead "dismember them by hand."
In March, police in Newcastle arrested two neo-Nazi activists for incinerating Israeli flags at a small far-right demonstration in the city center.
The "White Man March" was organized by the small but social media savvy neo-Nazi group, National Action.
You can share this story on social media: