Polish police detain British teens for stealing Auschwitz artifacts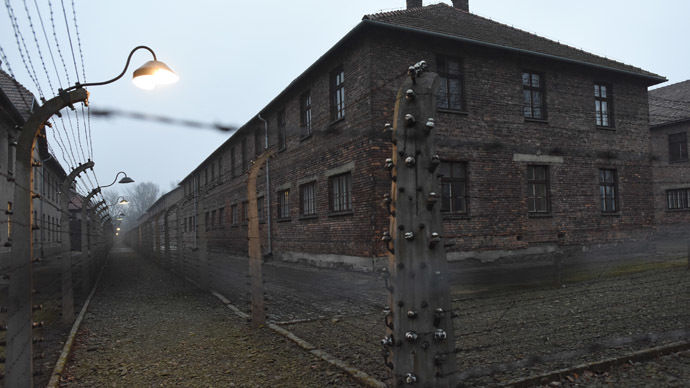 Two British school pupils have been detained by Polish authorities on suspicion of stealing historical artifacts from the Auschwitz-Birkenau concentration camp.
The pair, both aged 17, were acting suspiciously around a building where prisoners' confiscated belongings were kept when the camp was in operation, a spokesperson said.
Following a body search, the teenagers were found to have taken items which may have been stolen from the camp, including buttons, pieces of glass and a fragment of a razor.
It was reported the teens had been interrogated via an interpreter and they were waiting for a decision to be made on their detention.
If they are found guilty, they could face up to 10 years in prison.
READ MORE: Auschwitz 'hell on Earth': RT correspondent spends night at Nazi death camp
The 17 year olds were visiting the camp on a history trip from the single-sex private Perse School in Cambridge.
A spokesperson for the school said the pupils had apologized "unreservedly" for their behavior, adding they had picked up the artifacts "without thinking."
Head teacher Ed Elliott said the school took pupils on the trip to ensure they had a full understanding of the Holocaust.
"It is still too soon to comment on the details of this case. But it is particularly sad that a situation of this kind had arisen in the course of a visit to a location such as this," he said.
"The whole party was deeply aware of the scale of the tragedy associated with Birkenau and the other camps of the Holocaust.
"We believe that it is essential that young people growing up in today's world have a proper understanding of just what happened in that time, and these visits are an important part of that process of learning and understanding.
"Removal of historical artifacts is clearly wrong and a very serious matter. We apologize for any thoughtless and offensive behavior by these two pupils," he added.
Radio Poland reported the students picked up the items in the "Canada" section of the camp, which formerly kept prisoners in huge warehouses.
Under the Nazi regime an estimated 1.5 million people, mainly Jews, were killed at the camp. They were gassed, shot, hanged or burned.
The camp remains one of the most important symbols of Holocaust memory and is open as a museum to educate visitors.
This is not the first time a tourist has attempted to remove artifacts. In 2010, a Swedish man was prosecuted for organizing the theft of the "Arbeit macht frei" (Work sets you free) sign from the gates to the concentration camp.