​'Jihadi John fled to Libya after press revealed identity' – US intelligence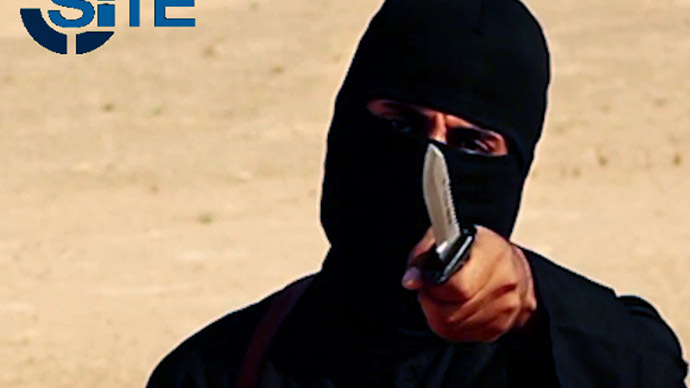 Islamic State executioner Mohammed Emwazi, dubbed 'Jihadi John' by Western media, has fled from Syria to Libya after his identity was revealed by the press, a US intelligence source says.
An American spy claims to have intercepted communications suggesting the Londoner has been in Libya for several days.
British-born Emwazi, 26, has not appeared in any Islamic State (IS, formerly ISIS/ISIL) videos since January when he was shown beheading Japanese journalist Kenji Goto.
Prior to that he was shown executing American journalists James Foley and Steven Sotloff, and British aid workers David Haines and Alan Henning in grisly videos which shocked the world.
"We think it is a tactical move by ISIS to keep Emwazi out of the limelight," an anonymous US intelligence official told the Sunday Express.
"His unmasking by the press took away the mystery surrounding his bogeyman persona and though we have targeted him with conventional missiles we have had no confirmation of a successful strike," he added.
The unnamed US official went on to claim Emwazi has links to an underground terrorist cell in Dewsbury, Yorkshire, the hometown of Talha Asmal, Britain's youngest known suicide bomber.
READ MORE: Jihadi John's extremist 'mentor' cannot be deported because of his human rights
Asmal, 17, reportedly died in an IS attack in Iraq earlier this month. The teenager traveled to Syria in March with Hassan Munshi, brother of convicted terrorist Hammad Munshi.
"Emwazi and his British colleagues in IS played a leading role in turning this terror cell, we call it a control cell now as its members appear to play the role of spiritual guides and logistical helpers rather than actively being involved in plotting themselves," the source said.
"We have known since last year that Emwazi has been in contact with a leading member of this cell based in Dewsbury.
"There are clear operational and strategic reasons we are monitoring these individuals linked to Emwazi and not arresting them straight away, including the fact that some of its periphery members are prepared to co-operate with us."
News of Asmal's death in a car bombing north of Baghdad, which killed 11 people, shocked the Yorkshire town, where the local imam compared the IS militants who recruited Asmal to "pedophiles."
Emwazi's true identity was revealed by Washington Post journalists Souad Mekhennet and Adam Goldman in February after months of speculation.
Before then the world only knew him by the moniker 'Jihadi John', a nickname given by hostages because he worked within a group of four British militants they dubbed 'The Beatles.'
READ MORE: Jihadi John wanted to join Al-Shabaab in Somalia to wage holy war – reports
A 29-year-old Syrian man known only as Ayman recently claimed Emwazi originally wanted to join Al-Shabaab in Somalia, years before becoming a member of IS.
He told the Independent last month that Emwazi gave up on his plan to join Al-Shabaab, which controls swaths of war-torn Somalia, after some of his London friends in the region were betrayed and killed by US forces amid allegations they were set up by rival groups.
The two friends referred to are likely to be Bilal al-Berjawi and Mohamed Sakr, members of the 'London Boys.'
They were stopped and deported from Kenya on their way to Somalia, but managed to reach the East African state in a second attempt that year. Both were later killed in US drone strikes.
You can share this story on social media: