​'Hatred and lies': European Parliament president slams 'toxic' UK debate on Europe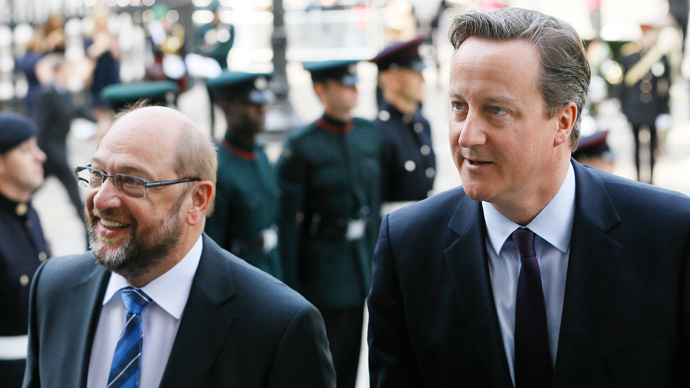 Britain's debate on the European project is fueled by lies, a toxic strain of national resentment and discrimination against eastern European immigrants, European Parliament President Martin Schulz has said.
Schulz made the assessment in London on Thursday, following a meeting with Prime Minister David Cameron.
EU President Schulz says UK negotiations are driven by hatred, lies and national resentment. How to win friends and influence people…

— Bertie Wooster (@privatemeans) June 19, 2015
Cameron is seeking to deliver a reformed EU membership status for Britain – a move he suggests will protect the UK's national interest as the European project rolls onward.
The PM has pledged to renegotiate Britain's ties to the bloc, prior to the Tories' in/out referendum. The vote on Britain's EU membership is expected before the end of 2017.
As part of its agenda, the majority Conservative government plans to heavily restrict EU migrants' right to access state welfare.
While Schulz did not overtly heap criticism on Cameron, the EP chief's comments will be interpreted as a politically loaded swipe at the Tory leader.
Brexit rebellion in the Commons: Eurosceptic Tory & Labour MPs unite over EU referendum date http://t.co/u2P42fdc7tpic.twitter.com/sQ9q7cgn1q

— RT UK (@RTUKnews) June 19, 2015
Speaking after his meeting with Cameron, Schulz accused people in Britain and Europe of divisive politics.
"There are attempts by people in Europe and also in this country to create new barriers between countries," he said.
"Stirring a feeling of panic over so-called benefit tourists from Romania and Bulgaria wanting to plunder the social systems of the host countries."
"Outright lies told... What makes me sad and angry in all this debate is the undertone of national resentment. Hatred is spread. People are used as scapegoats."
Scotland's former First Minister Alex Salmond has attacked the Conservative Party's European Union Referendum Bill, claiming the manifesto pledge is "based on nonsense and contradiction."
Salmond also said the referendum proposal "contradicted" Cameron's beliefs. "Nobody actually believes that Cameron wants a referendum," said Salmond, adding the vote could be used as a taxpayer-funded political tool.
What Britain in the EU means to us: five leading European writers on threat of #Brexithttp://t.co/xwTlR6BJ1C#bbcqtpic.twitter.com/GhX1GtpCq1

— BBC Question Time (@bbcquestiontime) June 18, 2015
The PM has relayed his thoughts on Britain's reformed relationship with Europe in talks with leaders from 20 states across the EU. He will formally present his proposals to EU leaders this coming week in Europe's lobbying capital, Brussels.
Cameron says he is confident a better deal for Britain can be secured. However, others aren't so optimistic.
The PM faces a revolt from Eurosceptic MPs over what they warn are attempts to manipulate the referendum in favor of remaining in the bloc.
Schulz, a Social Democrat from Germany, previously said Cameron had "no chance" of getting the EU to review its founding treaties. Describing Cameron's proposals as contentious, the European Parliament president urged the PM to compromise on his demands for Britain.
Schulz also insisted Cameron that would fail in his objective of stopping EU migrants from accessing Britain's welfare payments. The Conservative Party plan to deny EU migrants access to state benefits for four years after they arrive in Britain.
Earlier this month, it emerged the BBC could be legally compelled to remain impartial throughout Britain's EU referendum campaign, following new broadcast regulations tabled by backbench MPs.
Backbench Tory MPs including Bill Cash, John Redwood, Peter Bone and Christopher Chope called for the majority Conservative government to appoint an impartial adjudicator to rule on cases of alleged broadcasting bias throughout the campaign.