​Egyptian President Sisi invited to London, days after Morsi execution upheld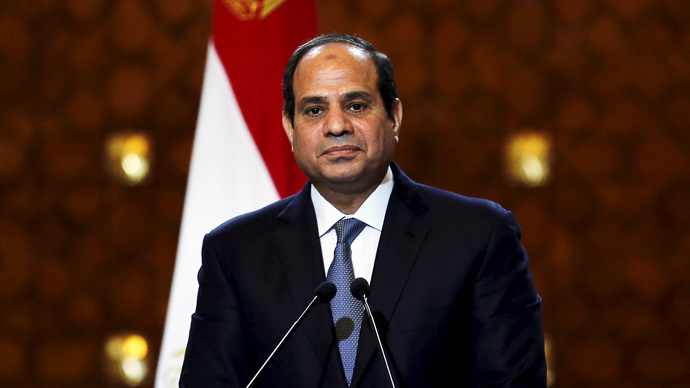 Prime Minister David Cameron has provoked anger after inviting Egyptian President Abdel Fatah al-Sisi to the UK later this year, days after a Cairo court upheld a death sentence on former President Mohammad Morsi.
Downing Street insisted that "no issues are off the table" when Cameron meets the military ruler for bilateral talks.
Human rights groups and critics of the Sisi regime condemned the invitation, citing reports of widespread human rights violations taking place in Egypt.
The UK is keen to protect national interests in the country, with British firms accounting for half of all foreign investment in Egypt.
A Downing Street spokeswoman said: "The prime minister has talked before about how it is important that we engage with countries where there are issues important to the UK's national interest.
"We can raise matters of concern — no issues are off the table in discussion. But that doesn't mean that we shouldn't engage with people."
The invitation came exactly two years after Cameron invited ousted President Mohammad Morsi for talks.
Downing Street hurriedly withdrew the invitation after the Muslim Brotherhood politician was overthrown in a military coup a month later.
READ MORE: UK, EU & human rights groups condemn Morsi death sentence
Egypt's first democratically elected leader now faces execution after being found guilty of orchestrating mass prison breaks in January 2011.
Morsi was imprisoned for several days in 2011 as then President Hosni Mubarak sought to control the Egyptian uprising.
His supporters claim he was only able to escape prison because guards abandoned their posts following a change in tactics from central command.
An Egyptian court confirmed Morsi's death sentence and that of 102 others Tuesday.
A former minister under Morsi told The Times that many of those who would have been in Morsi's delegation to London two years ago were also sentenced to death.
Yehia Hamid added: "The message is we don't care about the execution of the first elected president in Egypt. From a trade perspective it's business as usual."
Egyptian courts have handed out 335 death sentences already this year, on top of 509 sentences in 2014.
READ MORE: US lifts Egypt arms ban, sends $1.3 bn in weapons
There have been reports of widespread human rights abuses in Egypt since President Sisi came to power. In a 2014/15 report, Amnesty International described a "sweeping crackdown on dissent" within the country.
Human rights abuses allegedly included enforced disappearances and torture. The regime has implemented mass imprisonment of supporters of the now-illegal Muslim Brotherhood.
Amnesty International's Middle East and North Africa deputy director Hassiba Hadj Sahraoui said the decision to invite Sisi to London was "astonishing and short-sighted."
"We want to see David Cameron personally raising human rights issues in any face-to-face talks with President Sisi, and we also want to see these issues addressed in public," he added.
The UK accounts for 50 percent of all foreign investment in Egypt and is UK companies are anxious to protect their stakes in the country.
BP, Vodafone and other British companies announced they would invest £10 billion in Egypt this year alone. BP's £7.5 billion deal in the West Nile Delta is the biggest in the country's history.