Pride denied: LGBT flags must not be flown from British embassies, says Foreign Secretary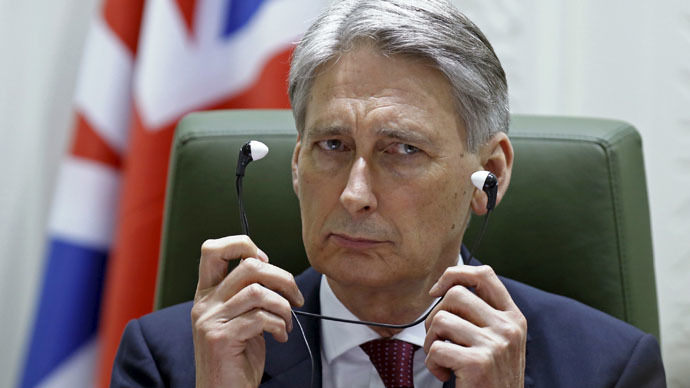 Foreign Secretary Philip Hammond has ordered British embassies across the world not to fly the rainbow LGBT flag during upcoming gay pride marches, reports claim.
Hammond is alleged to have said the rainbow flag, which is internationally recognized as the symbol for the gay, lesbian, bisexual and transgender rights movement, should not be flown in place of the Union flag during the marches.
A Foreign and Commonwealth Office spokesperson told the Daily Mail that the traditional Union flag "must always take priority" over any other adornments.
"It is flown from the FCO's main flagpole at all times. It is never substituted for another flag. It is the FCO's longstanding policy to fly the Union flag, national flags and the flags of Overseas Territories.
"The Foreign and Commonwealth Office is committed to promoting and protecting the rights of LGB&T people. UK Diplomatic Missions around the world will mark Pride Week in a number of ways," they added.
In 2014, before Hammond was made foreign secretary, British embassies in Paris and Oslo, among others, flew the flag for gay pride.
"It's hugely disappointing that British embassies have been banned from flying the rainbow flag this summer," a spokesman for LGBT rights charity Stonewall said.
READ MORE: Pentagon changes LGBT policy to strengthen national security
READ MORE: #MyNameIs: Drag queens, Native Americans protest Facebook's 'authentic name' policy
"Pride events celebrate and recognize the diverse LGBT community, and flying the flag demonstrates a commitment to supporting this community."
"We know the rainbow flag has been welcomed and flown with pride in the past, and hope this decision will be reconsidered."
The UK's gay pride march has made headlines this year after organizers banned the UK Independence Party (UKIP) from marching due to the homophobic comments of some of its members.
UKIP leader Nigel Farage wrote in the Express the ban showed there was "little doubt that UKIP is the most demonized political party in Britain today."
Farage claimed the media and other politicians were trying to "incite hatred against UKIP."
"There seems to be a new modern phenomenon in British politics that no matter how nasty, there is no level of prejudice that is unacceptable as long as it is directed against UKIP," Farage said.
"Indeed, the party has been banned, outlawed in fact from attending the London Gay Pride Parade, which I was under the impression was about standing for tolerance rather than censorship and hate."
Pride organizers faced a wave of criticism after initially allowing the party to march on June 27, but subsequently decided to ban them from the parade after a petition gathered the support of more than 2,300 people.
Earlier this month, equality campaigner Peter Tatchell told PinkNews: "It is not appropriate for any organization that opposes LGBTI equality to participate in the Pride London parade. UKIP campaigned against same-sex marriage and supports the right of faith organizations to discriminate against LGBTI people."