​Anti-austerity candidate Jeremy Corbyn makes Labour Party leadership list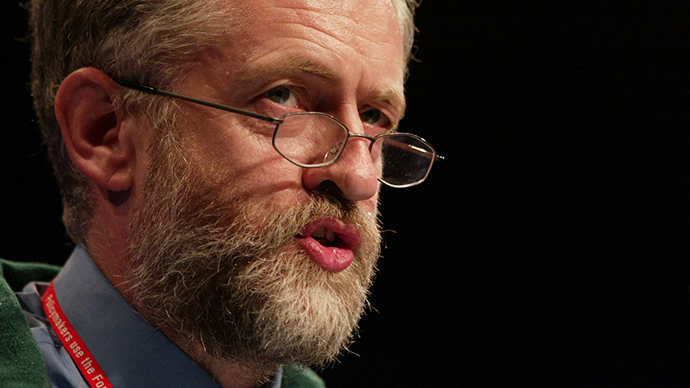 Labour Party MPs have nominated a veteran left-wing, anti-austerity candidate to stand for the party leadership against other center-left and Blairite contestants.
In a nerve-wracking countdown to midday, when submissions closed, Jeremy Corbyn received the requisite 35 nominations from Labour MPs by the skin of his teeth.
On the ballot paper, he will join Andy Burnham, who gained 59 nominations, Yvette Cooper who won 56 and Liz Kendall who secured 37.
Corbyn's agent John McDonnell MP confirmed the success on Twitter, posting: "As Jeremy's agent I can confirm that he is on the Labour leadership ballot paper with 35 nominations. Thank you everyone."
READ MORE: Tony Blair warns of 'severe defeat' if Labour moves left
The candidate told the BBC before nominations closed that he felt the leadership contest was happening too soon, and without enough debate. He also called for future leaders of the party to be held to account more closely.
"It used to be that the leadership of the Labour Party was actually an annual election. It was very seldom contested, but it was indeed an annual election. I don't see any reason why we shouldn't look at a process where it doesn't become a challenge to the leader ... Leaders, whoever they are, need to be held closely to account."
Prior to the deadline, a number of Labour ministers said while they didn't intent to vote for him, they were willing to show their support for Corbyn in order to broaden the leadership debate.
David Lammy MP posted on Facebook to explain why he was showing his support for Corbyn.
"While there is enough that Jeremy and I disagree on to mean that I won't be voting for him, I believe the choice of who becomes Labour's next leader should be made by Labour members and supporters – not by MPs," he wrote.
"He is a man of immense integrity and principle and will contribute hugely to the debate about the future of our party in the coming weeks," he added.
Conservative commentators have greeted the news with joy, saying the addition of an anti-austerity candidate paves the way for another crushing Labour defeat in 2020.
If Jeremy Corbyn's the future of the Labour Party, they won't win back power for another 100 years.

— Piers Morgan (@piersmorgan) June 15, 2015
Hahahahahahahaha Corbyn winning Labour's leadership effectively hands the Tories another election win in 2020

— Josh Pope (@JoshPopeInc) June 15, 2015
*Faint cheers ringing across Westminster emanating from CCHQ* Corbyn is on the ballot.

— Tom Harwood (@tomhfh) June 15, 2015
Any Labour supporters wishing to vote in the election must register by August 12. Voting opens on August 14 and the ballot will close on September 10.
The new leader will be announced on September 12.