Biometric cameras scan festival-goers' faces to target 'organized criminals'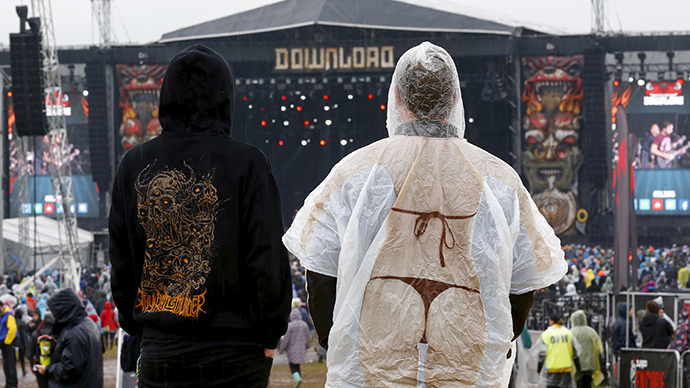 Ninety thousand rock music enthusiasts who attended the Download festival in Derby this weekend were scanned by facial recognition cameras and cross-compared with a criminal database, it has emerged.
Leicestershire Police placed facial recognition cameras at "strategic" locations around Derby's Download Festival this weekend to log visitors' faces. The images captured were then compared with mugshots of criminal suspects from across Europe.
The police are scanning the faces of every single person at @DownloadFest this weekend: http://t.co/7GVu1vFn7Kpic.twitter.com/u9Ntf21cfu

— VICE UK (@VICEUK) June 12, 2015
READ MORE: Britain risks 'sleepwalking into a surveillance state' – CCTV watchdog
READ MORE: Red-faced: 18mn mugshots stored on police database despite court ruling
This marks the first time police have used biometric technology to scan the faces of festival-goers. If the trial is successful, the technique may be rolled out across the country.
Leicestershire Police said the move could help target organized criminal syndicates, which steal mobile phones from unsuspecting revelers.
Speaking to the Police Oracle, Detective Constable Kevin Walker said the strategy is normally conducted in a "controlled environment."
Walker said the use of biometric technology at festivals to target organized criminals has sparked widespread intrigue. "Other festivals" have expressed interest in adopting these measures if they prove successful, he said.
Privacy rights campaigners warn the use of biometric cameras to scan the faces of unsuspecting festival-goers breaches their basic right to privacy.
Big Brother Watch Chief Executive Renate Samson said the technique dampens the spirit of fun traditionally associated with these events.
"It's one thing to pay good money to think you're going to enjoy yourself at a festival," she told Vice.com.
"To then unknowingly find that your face is being scanned using biometric technology and compared with a database of people in custody from across Europe takes the edge off the fun."
Samson also noted Leicestershire is a hub for state surveillance, boasting the highest numbers of CCTV cameras in Britain between 2009 and 2011.
Police use blanket facial recognition on festivalgoers.@ICONews, yr views on proportionality/ PIA? http://t.co/BKEyci1RZN#dataprotection

— bto data protection (@btodataprotect) June 15, 2015
Download Festival's organizers have seen crime rates fall by 70 percent since their 2013 event, Leicestershire Police claim. The three-day festival, which kicked off on Friday, attracts music-lovers from all over Europe. Among the acts playing, were world-famous rock banks Slipknot, Muse and Kiss.
A Leicestershire Police statement released to the Independent said the facial recognition technology doesn't capture pictures of festival-goers.
"It compares them to a database that has been put together solely for this event and will be destroyed by the middle of next week," the statement said.
The force suggested all those who attended the festival had agreed to have their pictures taken, saying this "condition of entry" was "stated on every ticket."
Will be interesting to see what data protection/image storage assessments Leicestershire police have done around the use at Download

— Matt Burgess (@mattburgess1) June 11, 2015
RT asked Leicestershire Police how images of festival-goers could be compared with those stored on a criminal database if the festival-goers' faces were not logged and stored by the biometric technology. RT also probed Leicestershire Police on whether the biometric images of people attending Download Festival will be shared with any third parties.
The force is yet to issue a response.
Earlier this year, Britain's Surveillance Camera Commissioner Tony Porter warned the UK "must not sleepwalk into a surveillance state."
Porter said the UK is saturated with CCTV cameras, many of which are useless for combatting crime.
A former senior counter-terrorism officer, Porter said Europeans are shocked that the British public readily accepts such high-levels of CCTV snooping.
He called for public debate on the issue and greater regulation.
You can share this story on social media: