Dodgy Britannia: 'Too easy' to launder money in the UK, report says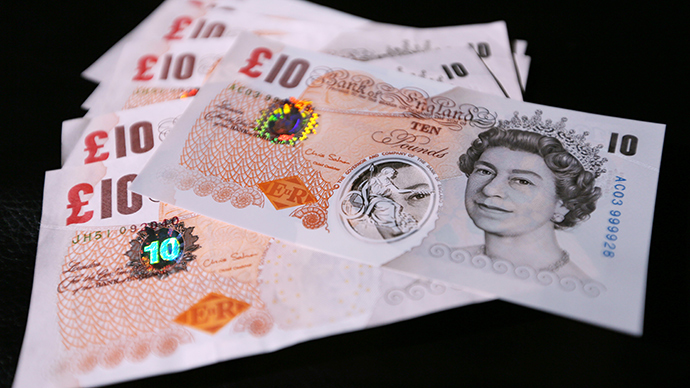 The regime to stop illegal wealth being laundered through the UK is 'not fit for purpose,' according to a report by Transparency International.
Huge amounts of money gained through corruption is invested in the UK, but powers to address the issue are very limited, the charity says.
Its investigation focused on suspicious activity reports (SARs), the mechanism used by businesses to report suspicious transactions and activities to police.
READ MORE: 'Britain awash with dirty money,' says anti-corruption think tank
Transparency International claims 94 SARs were reported to the Metropolitan Police and then referred to the specialist corruption unit (POCU) in 2014.
Seven of those were acted upon, resulting in the halting of transactions viewed as being too suspicious.
"However, this is recognized by law enforcement experts as only a very small proportion of the wider threat," the report states.
Transparency International UK head of advocacy and research Nick Maxwell wrote on the charity's website: "The UK's asset recovery regime is clearly not fit for purpose and it is far too easy for individuals to launder their corrupt wealth through the UK.
"This failure is down to the limited powers UK law and enforcement agencies have to seize corrupt assets. The UK is well placed to lead on international efforts to recover the proceeds of grand corruption."
Part of the problem is jurisdictional, the report claims, meaning charges must be pursued in the country of origin and according to its laws.
"There is no power in UK law to require the foreign public official to explain sources of wealth for such suspicious transactions, which exceed declared and official sources of wealth."
Maxwell also says UK corruption and laundering must be seen in a global context as "a justice issue, a moral issue, an aid-effectiveness issue, a reputational issue for the City of London and it can be a national security issue to detect, seize and recover those assets."
"If the corrupt from around the world can launder their assets through the UK with impunity, then the corrupt will continue to ferment insecurity and global poverty."
Maxwell said lack of proper measures is leaving the UK "vulnerable to the malign influence of corrupt billionaires and millionaires who are known to engage in influencing media and politics in the UK.
"These questions go to the heart of what society and economy we want to have in the UK," Maxwell adds.