Tony Blair pleaded with US judge to spare David Petraeus jail over CIA leak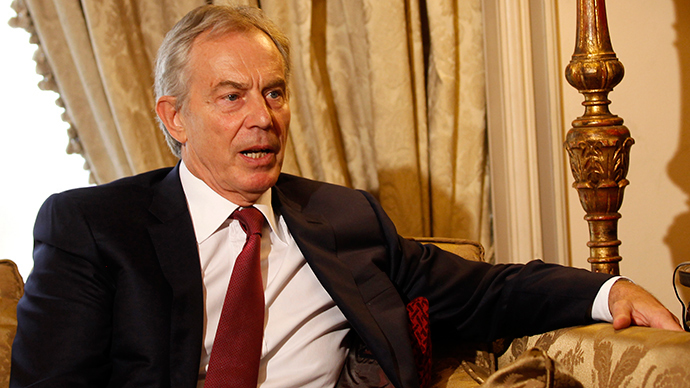 Former British Prime Minister Tony Blair wrote to a US judge begging him not to send David Petraeus to prison after it emerged the former CIA director had leaked classified information to his mistress.
Blair, along with more than 30 other high profile international figures, succeeded in persuading Judge David Keesler to grant Petraeus leniency given the amount of work he had done for the intelligence agency.
The disgraced former general has been forced to pay a $100,000 fine and was sentenced to two years' probation, but was spared jail.
Blair described Petraeus as "one of the most outstanding public servants I have ever worked with."
The former British PM described him as "the best security thinker on the counter-terrorism issue I know."
"The world needs his continued engagement and presence," Blair said. "We need his service at this time and his brain power. David Petraeus still has a vital contribution to make and I hope he can make it."
READ MORE: Tony Blair to head European council on anti-Semitism
In his letter, Blair documents his relationship with Petraeus. They met when the former general was commanding troops in Iraq in 2007, and Blair says he "came to know him well" and "maintained the relationship even after I left office."
Other notables who rallied to Petraeus' defense were Lindsey Graham, now mounting a bid for the US presidency, and Admiral William McRaven, who commanded troops involved in the raid which killed Osama bin Laden.
Petraeus was forced to resign as the head of the CIA in late 2012 after it emerged he had given his biographer Paula Broadwell, with whom he was having an affair, classified material for her book, All In: the Education of General David Petraeus.
In spite of submitting a guilty plea, the former general still works as a counter-terror consultant for the US government.
Supporters of Edward Snowden, who revealed the extent of NSA and GCHQ mass surveillance techniques, have criticized the US's treatment of Petraeus, branding it deeply unfair that he has not been jailed, while Snowden lives in exile and could face years behind bars.